'Worryingly low' hedgehog numbers across countryside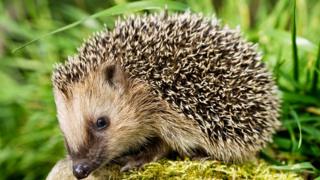 The number of hedgehogs found across Wales has given scientists cause for concern.
A new study shows the prickly creature's numbers in rural areas are "worryingly low".
Scientists found hedgehogs in just 3 of 18 sites surveyed across Wales, a presence of just under 17%.
The study, the first national scale survey of rural hedgehog populations in England and Wales, found a "perfect storm" had hit hedgehogs.
The animals are struggling to cope with changes to agricultural land and are also falling prey to badgers.
Numbers of the hedgehog's main predator have almost doubled in the last 25 years
Across England and Wales, hedgehogs were found at 55 of the 261 sites surveyed, or 21%.
"The slightly lower number in Wales is to be expected given the higher concentration of uplands," said Ben Williams, author of the study which was published in the journal Scientific Reports.
"Hedgehogs are known not to live above the tree line."
Badgers
Badger setts were found at 10 of the 18 sites across Wales and the study said the presence of badgers had a "significant" negative impact on hedgehog sightings.
Badgers are protected, they predate hedgehogs and compete for the same foods.
But while badgers are having an impact, other factors are significant too.
"We were unable to determine one main factor," Mr Williams said.
The use of pesticides and increased mechanisation in farming is also responsible, as is the change of agricultural landscapes and the removal of hedgerows to create larger fields.
In addition, "rural landscapes are further fragmented by road networks which could potentially act as a significant source of mortality," the study found.
Further research is now being undertaken by the University of Nottingham Trent, where scientists will carry out a more intensive survey of fewer sites.