Actor backs dwarf wrestling events branded 'freak show'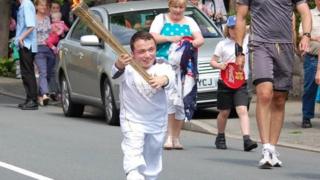 An actor with dwarfism has backed the organisers of a controversial wrestling event involving people with the condition.
James Lusted, from Colwyn Bay, says the shows in Cardiff and Swansea should go ahead next month.
He was responding to calls from a charity for venues to boycott Extreme Dwarfanators Wrestling.
Venues in Leicester and Ferndown, near Bournemouth, have already cancelled performances.
The Restricted Growth Association (RGA) compared the event to a "freak show" that ridicules people with dwarfism.
However, Mr Lusted, a TV presenter, motivational speaker and county councillor, says those involved in the event deserve the opportunity to perform.
"If they want to wrestle then let them crack on. If you don't agree with it don't go," he told BBC Radio Wales.
"I'm really frustrated the shows have been cancelled.
"That's how they've chosen to live, that's how they've chosen to support their families, pay their bills. Why don't we just encourage and support them in that.
"These professional entertainers, they're well trained and fit but they're actually going to lose finances now. I feel sorry for them."
Organisers say the "family" show is about promoting equality.
However Gillian Martin, of RGA, said the event was "deeply offensive" and urged venues to "move into the 21st Century" by cancelling the event.
"They are about making people laugh at the Victorian spectacle of people with dwarfism fighting each other," she added.
Standing at 3ft 7in tall, Mr Lusted was born with Diastrophic Dyslasia - a rare genetic condition that causes dwarfism - despite his parents both being of average height.
He has twice represented Great Britain in the World Dwarf Games and has been the UK champion at Class One badminton for nine years. He carried the Olympic torch when it travelled through Wales in 2012.
"I can understand that some people don't like this kind of thing," he said.
"But those involved are human beings so let's support them and not discourage them by campaigning to cancel their shows.
"There are more important things for the charity RGA to be campaigning about. I'd be campaigning for stuff like dropped kerbs and problems getting life insurance."
Tickets remain on sale for the show at Coyote Ugly Saloons in Cardiff, on 18 October, and Swansea on 21 October.