A545 on Anglesey closed due to landslide and gas leak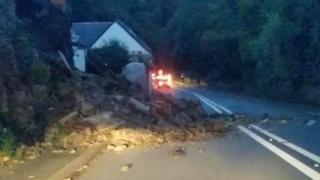 A landslide and gas leak have closed a main road on Anglesey.
The A545 between Beaumaris and Menai Bridge will be shut until at least Friday evening after the landslip.
Anglesey council said gas engineers had fixed the leak but "a substantial amount of debris" still had to be cleared and a new retaining wall had to be erected.
A spokesman said officials were making "every effort to ensure it is safe to reopen the A545 as soon as possible".
Anglesey councillor Carwyn Jones said this stretch of road had suffered other landslides in the past, including one in November.
In January, it was revealed about £95,000 had been put aside to help deal with the landslides.
The council has agreed to commission designs for strengthening and improving the road, which has been closed several times in recent years.
The council spokesman added: "Diversions remain in place and we would urge motorists to use them until the road can be reopened under traffic management."