Fraud warning issued to former clients of steel pensions adviser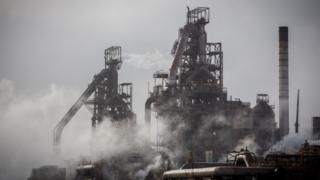 Fraudsters pretending to be from the Financial Conduct Authority (FCA) have targeted steelworkers who were clients of a banned pension adviser.
Midlands-based Active Wealth was banned by the FCA from giving advice after claims it mis-sold pensions so people would leave the British Steel scheme.
The FCA said it had learned a "third party" may have shared information about the firm's former clients.
Sixty-four Welsh Tata Steel workers changed pensions through Active Wealth.
A spokesman for the FCA said: "The fraudsters may tell you some of your personal information, such as your date of birth or national insurance number to give the impression that the communication is genuine.
"You may also be told you are entitled to a sum of money, and that the FCA needs your bank account details to make the payment.
"The FCA will never contact members of the public asking for money or bank account details."
The regulator urged people not to provide any information to anyone who calls them claiming to be from the FCA.
Meanwhile, the Financial Services Compensation Scheme said it was dealing with claims from 29 steelworkers against Active Wealth.
Earlier this year, MPs said British Steel pension scheme members had been targeted by "vulture" financial advisers after Tata was allowed to offload its £15bn retirement fund in 2017.
The Indian firm announced a restructuring of the fund to keep its UK loss-making operations afloat - with current and former steelworkers having to decide what to do with their pension.
But the Work and Pensions Select Committee found the UK government, Tata and regulators failed to protect 124,000 members from a "major mis-selling scandal".
The FCA is investigating about 17 firms over their handling of pensions advice to steelworkers.