Aston Martin: Will it get more taxpayer cash?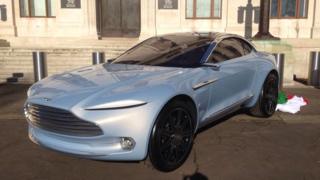 The Welsh Government will not say whether any more public money has been given to Aston Martin as part of its decision to base electric car production at its St Athan facility.
I asked - yesterday and today - whether the Welsh government contributed to the extra £50m Aston Martin is now pumping into the Vale of Glamorgan facility, but it has not confirmed either way.
But curiously, when I told them I was going to report that they were refusing to answer the question, a Welsh Government spokesman said: "The BBC is mistaken. We have not refused to release these figures."
Even so, no figures have been released.
I still cannot say whether or not the carmaker has received any extra money at all.
Last year the Information Commissioner ruled the Welsh Government had to disclose it had given Aston Martin £5.8m to set up in the Vale of Glamorgan.
The leader of the Welsh Conservatives Paul Davies AM told me they were "extremely pleased" to see Aston Martin in Wales.
But he added: "The Welsh Labour Government's refusal to disclose the amount of money they have given to Aston Martin to have their base in Wales is part-and-parcel of their usual smoke-and mirrors attitude towards accountability.
"The Welsh Labour Government have already been rebuked for their murky attitude towards revealing the truth to the public and this continued blockage of information demonstrates their contempt for the Welsh people."
'Package of support'
The First Minister Carwyn Jones welcomed Aston Martin's announcement this week that it will build its first battery electric car and its Lagonda brand at St Athan. A limited edition of 155 of Aston Martin's first battery electric car, the Rapide E, will be made.
He added that it was "a huge vote of confidence in the Welsh Government's can-do attitude and in the package of support that we can offer to businesses that want to work with us".
The Welsh Government told me this referred to the original £5.8m.
The plant at St Athan had always been expected to employ 750 people when it was fully operational producing the DBX model.
It does not appear that the latest announcement will lead to any more jobs.
Aston Martin is expected to float on the stock exchange in October with the company valued at £5bn.
There are two issues at stake.
Firstly, there is the ongoing debate about the practice of giving grants or loans to businesses in Wales.
But secondly there are sometimes questions around the Welsh Government's approach to transparency - and whether that can prevent the public deciding for themselves what represents value for money.
I have now submitted my question as a Freedom of Information Act request - I await the response with added interest.