Bridgend's Parc prison mental health funding alert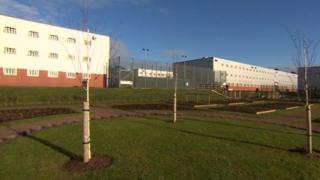 Specialist mental health care funding for one of Wales' largest prisons has not changed in over a decade, despite its population doubling in that time.
The Independent Monitoring Board (IMB) report on HMP Parc near Bridgend said demand for these services was high with "very significant" self-harm figures.
The board also raised concerns about the level of violent incidents and substance abuse.
But the IMB said that overall, Parc is "very well managed".
The board said that the safety of prisoners was "paramount" and the range of purposeful activity for inmates was "growing ever wider".
Primary mental health services are provided by G4S, but secondary care comes from the local health board and only caters for adults up to the age of 65.
The report said that budget is based on the 2007 prison population, which is approximately half the current population - an issue it says which has been raised "with the Welsh assembly".
The issue of violence has also been recently addressed by the director of the prison, Janet Wallsgrove.
Earlier this week she raised the issue with MPs on the Welsh Affairs Select Committee in Parliament, especially problems with younger offenders.
"On average the Young Persons' Unit, which comprises generally around 40 young people, would typically be 27 to 28 per cent of our violence during the month. So, it does skew the figures," she told MPs.
Privately-managed Parc, which houses more than 1,700 prisoners, including 60 aged 15 to 18, is recruiting behaviour analysts to deal with some of the violence and self-harm problems.
The prison director said the report "identifies the significant challenges" faced in tackling drugs and violence.
On the drugs issue, she added: "Our close work with South Wales Police has so far resulted 45 charges in the past year, of which 17 resulted in convictions for offence within the prison."
David Roberts, mental health and learning disabilities service director for Abertawe Bro Morgannwg University Health Board, said there had been no increase in funding specifically for secondary mental health care in Parc prison since 2007.
He added: "The situation is complicated because the health board's overall budget is based on the population count in the most recent census.
"There has been a significant increase in the Parc prison population since the last census."