Charity wants dwarf wrestling 'freak show' cancelled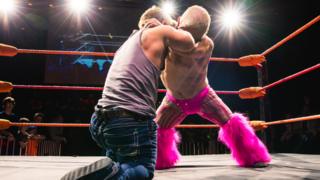 A charity has urged venues in Wales to boycott a "deeply offensive" wrestling event involving people with dwarfism.
Extreme Dwarfanators Wrestling is due to take place in Cardiff and Swansea next month.
However, venues in Leicester and Ferndown, near Bournemouth, have cancelled hosting the tour due to its "tone of promotion".
The Restricted Growth Association (RGA) compared the event to a "freak show" that ridicules people with dwarfism.
Organisers say the "family' show is about promoting equality and the fighters, with names including Mini Fussion, Shorty Main and Lil D, are "pro athletes".
Morningside Arena in Leicester and Ferndown Leisure Centre, in Dorset, say they are now unwilling to host the tour.
Tickets remain on sale for the show at Coyote Ugly Saloons in Cardiff, on 18 October, and Swansea on 21 October.
RGA fear the event may "exacerbate" verbal abuse, harassment, bullying and physical abuse towards people with dwarfism.
Gillian Martin, from the charity, said the event was a "Victorian spectacle" and urged venues to "move into the 21st Century" by cancelling the event.
"Such shows are rarely primarily about genuine athleticism and regulated competition," she added.
"They're about making people laugh at the Victorian spectacle of people with dwarfism fighting each other.
"We're deeply disappointed to see these venues choose to facilitate the spectacle of violence towards people with dwarfism as entertainment."
You may also be interested in:
Extreme Dwarfanators Wrestling said: "We are saddened to hear that [venues] in England [have] recently cancelled the show.
"The wrestlers feel this is discrimination and that any person has the right to choose their own career path and should not be told what they can and cannot do."
Some of the wrestlers said they "feel empowered" and had, in some cases, invested their life savings to tour the UK.
"The event is sending a message to people to say anyone can achieve their goals in life, no matter what physical or mental disability they have," said wrestler Derec Pemberton.