Cardiff nurse struck-off after 'sex with patient' allegations proved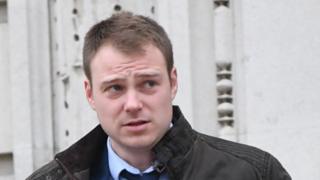 A tribunal has ruled it believes a senior nurse did have sex with one of his patients - despite him being cleared by a jury.
Alec Wallbank, 33, was found not guilty at Cardiff Crown Court last year.
His case was heard by Nursing and Midwifery Council panel (NMC) - which makes rulings on "the balance of probabilities" rather than "beyond all reasonable doubt."
Mr Wallbank, of Pontypridd, was struck off the nursing register.
The registrant, who worked as a deputy ward manager for Cardiff and Vale University Health Board, had denied flirting with and kissing the female patient after she was admitted to hospital in 2014. He also refuted accusations he had sex with her in a hotel.
The NMC panel was told the woman, known as Patient A, had been contacted by Mr Wallbank via Facebook under an alias.
"We met up and went for a walk but the atmosphere was more flirtatious and we were holding hands," she said.
"That was the first time we kissed. I remembered saying something like 'I bet you never thought you would do that with a patient' and he said 'especially one under section'."
The hearing was told the pair would also go to the hospital laundry room "where they could kiss".
Patient A said she and Mr Wallbank also kissed again in a hotel following her discharge from hospital after a suicide attempt.
Messages sent by Mr Wallbank were also described as "highly inappropriate, especially given the sexual context".
The registrant, who denied having a sexual relationship with the woman, apologised in a letter for "not observing professional boundaries".
The NMC found nine allegations against the registrant proven - before issuing a striking off order.
Panel chairman John Penhale said: "Mr Wallbank's misconduct, as highlighted by the facts found proved, was a significant departure from the standards expected of a registered nurse.
"Mr Wallbank's actions are fundamentally incompatible with him remaining on the register."
Mr Wallbank has 18 months to appeal the decision.