New £535,000 Cardiff hospital wing to 'streamline' cancer care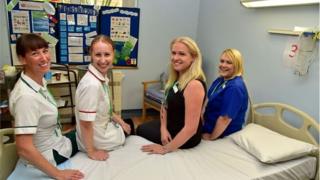 A cancer hospital's new £535,000 wing will speed-up access to treatment for seriously ill patients, health workers have vowed.
The Assessment Unit at Velindre Cancer Centre in Cardiff, has been billed as a "one stop shop" for emergency cancer patients.
It has four dedicated beds as well as a specialist doctor and nurses.
The unit was opened on Wednesday by Assembly Member Steffan Lewis, who has stage four cancer.
Health officials said it will help emergency cancer patients transferred to the Assessment Unit, including ones who require emergency radiotherapy or become very unwell during their routine treatment.
Consultant Oncologist Dr Hilary Williams said: "We already work closely with the acute cancer teams in local hospitals and those working in the community who work extremely hard in managing emergency cases.
"It will enable us to streamline the care and treatment we provide for our emergency patients."
Macmillan Wales, which provided £340,000 of funding, said the unit would also provide dietetic services, along with occupational therapy and physiotherapy.
The charity's head of service Richard Pugh said: "From start to finish the new team will help speed up initial assessments, put detailed care plans in place, and support people to return home as soon and as safely as possible."
Ahead of the opening, Plaid Assembly Member AM Mr Lewis said he had personal experience of the excellent work done at the hospital, which is based in Whitchurch.
"As an inpatient, I know that the same level of dignity and compassion, which is central to Velindre's ethos, will characterise the new unit too," he said.
A new cancer centre at Velindre is set to open in 2022.