Lung disease patient care 'not acceptable' in Wales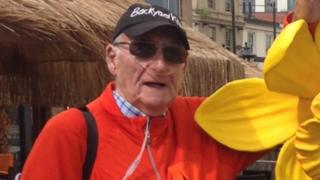 For 80-year-old John Mason, everyday tasks like tying his shoelaces mean a constant battle for breath.
He is one of 2,100 people in Wales who live with Idiopathic Pulmonary Fibrosis (IPF) disease, where the lungs become increasingly scarred.
The British Lung Foundation says around 5,000 people die from the disease in the UK every year and is calling for better access to treatment and support.
The Welsh Government said it has set up specialist services for lung diseases.
John, from Barry, has lived with IPF for seven years despite being told by doctors that he had less than five years left to live.
"It got to the point where I could only get half way up the stairs and had to stop for breath.
"It was so frustrating - it could take me 15 minutes to get upstairs.
"Just bending down to tie my shoes is enough to make me breathless," he said.
He now uses daily medication, oxygen support and also sees a specialist respiratory consultant roughly every six months.
"On a bad day, I can wake up and not be able to do anything," he said.
Before he was diagnosed, John was a regular walker around Barry Island, but now would need portable oxygen cylinders to do it.
He says that "there is so much less awareness about this than cancer" and wants more investment in research.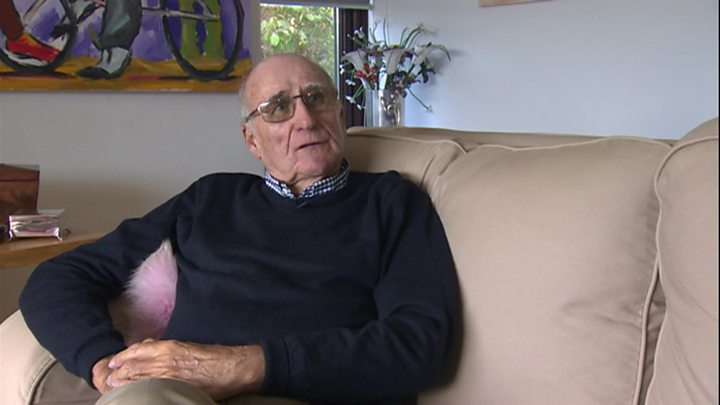 The terminal disease currently has no known cause or cure and according to the British Lung Foundation patients die three to five years after their diagnosis on average.
A lung transplant is also an option for IPF patients but the average waiting time for one is about nine months.
The British Lung Foundation says that since 2010, 32 people in Wales have died whilst waiting for a lung transplant.
"There is still a huge difference between the type of care patients receive in each health board - this is simply not acceptable," said Joseph Carter, head of the British Lung Foundation in Wales,.
The charity's report makes recommendations to "end the neglect of IPF patients" such as better access to personalized treatments, anti-fibrotic drugs, specialist nurses amongst others.
Respiratory care had the fifth highest expenditure within NHS Wales at £400m in 2015-16, according to a Welsh Government report.
"Our respiratory health plan recognises the importance of timely and expert care for Interstitial Lung Diseases (ILD), such as IPF," said a Welsh Government spokesperson.
"The plan includes a national work stream to improve ILD care across Wales and NHS Wales has established two specialist ILD services to support the local management of conditions such as IPF."