Young doctors: Jump in number of Welsh medical students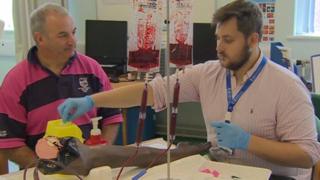 There has been a big jump in students from Wales starting to study medicine at UK universities, according to latest figures.
There were 410 medical or dentistry students from Wales with places in 2018 - a 23% increase on 2017.
This number is the highest for at least 10 years and the rise outstrips other UK nations.
Experts describe the figures as a "fantastic" landmark in efforts to tackle staff shortages in NHS Wales.
It represents a rise of more than 50% on the numbers of new students from Wales five years ago.
The increase this year is the biggest of any UK country, according to data from admissions service Ucas.
This shows 10% more students from England started studying medicine or dentistry with a 2% rise from Scotland.
However there were 9% fewer medical and dental students from Northern Ireland.
More junior doctors choosing Wales
Medical student on life in Cardiff
GP shortage 'escalating' in north Wales
Prof Steve Riley, dean of medical education at Cardiff University said although one year's data could be a blip he believes the fact more Welsh students were getting places was "fantastic" and that a variety of schemes "to increase the competitiveness of Welsh students at the application process" seems to be paying off.
"If you attract young people from local communities to study medicine, they're more likely to go back and work in those communities. Over time, that should take the pressure off those NHS services that need to recruit more doctors," he said.
But he said it was important to "maintain this pressure now" to increase the diversity of the NHS workforce in Wales.
What are the medical schools doing?
Cardiff University Medical School has a mentoring scheme, where medical students work with schools.
Swansea University Medical School offers places for graduates and has been making efforts to increase the number of Welsh students applying - holding more than 100 interviews.
It also has a "doctors for Wales" strategy to tackle shortages, including work experience for sixth-formers with a local GP and mentoring and taster projects, while working to encourage more Welsh-speakers to go into medicine.
Both Welsh medical schools also have initiatives to give students opportunities for a taste of rural medicine, as well as work placement opportunities with GP practices in different parts of Wales.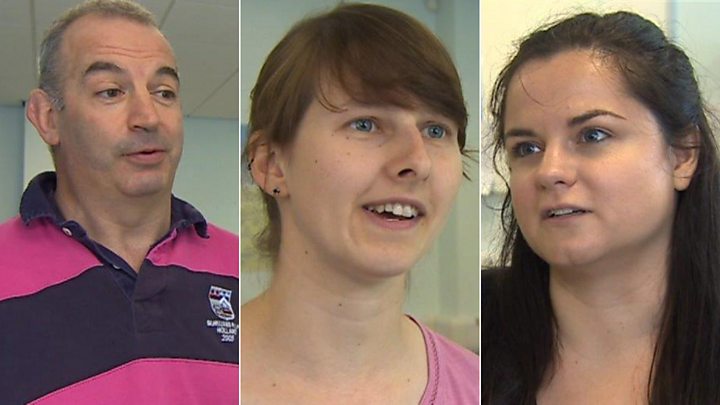 What do the students say?
Cameron Avo, from Swansea, has just started as a first year graduate-entry medical student, with a neuroscience degree already behind him. He wants to see more places - and ways to get into medicine.
"I'm a bit of a science geek so it's using science to help people," he said. "As much as I enjoy the research part, I really wanted to get out there and use these skills.
"From my experience, there are people who apply for medical school who'd make perfectly good doctors but we don't have enough places in Wales - you can have all the A*s at GCSE and A-level so it's definitely important we have different routes into it."
Melanie Williams, from Bridgend, a fifth year medical student at Cardiff, has been on visits to primary schools to try to encourage the next generation.
"There's a lack of education about what medicine is and how to get into it," she said.
"We've been looking at the reasons why, and a lot of young pupils around 10 or 11 don't know what doctors do. And those in year 10 or 11 are unaware of what qualifications they need or how to get work experience."
She is planning to stay in Wales and is thinking about a foundation year in north Wales.
Dr Peter Saul, of the Royal College of GPs in Wales said the rise in student numbers was welcome news.
"It's important that students are encouraged into primary and community-based settings in order to meet future patient demand," he said.
The challenge remains to ensure Wales is attractive a place to work as a doctor, as well as to study.
Health Secretary Vaughan Gething said encouraging more young people to consider studying for a medical degree was an "important part" of the NHS recruitment strategy.
This included enabling people to study in north Wales for the first time and a work experience for school children within GP practices.