Dog ban plan for Cardiff open spaces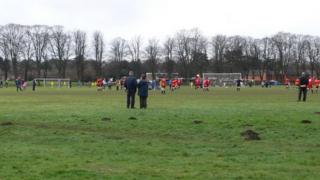 Dogs could be banned from playgrounds, sports pitches and school grounds under proposals from Cardiff council.
The move is part of a wider plan to tackle dog fouling and behaviour in the city, and would include a prohibition on fouling in any open spaces owned or maintained by council.
On-the-spot fines for dog walkers who fail to clear up mess could also be raised from £80 to £100.
The council would use a public spaces protection order (PSPO) to enforce it.
Owners would also need to keep dogs on a lead in cemeteries.
Over the last year the council has received 500 complaints about dog fouling.
Under the plan, which is out for consultation, people who failed to pay a fine could go to court and face costs of up to £1,000.
The move would mean bans in places like the fenced-off play areas and sports pitches in parks.
Peter Bradbury, cabinet member for culture and leisure, said the council was particularly concerned about the safety of children and people playing sport.
However, experiences elsewhere suggest similar measures do not eradicate the issues.
One junior football club in Flintshire has been forced to make dog poo bags part of its staff's kit because dog owners are ignoring a similar ban on walking their pets on pitches.
Buckley Town Junior Football Club says the school pitch it uses is regularly affected by dog mess, despite a PSPO being brought in last year.
Club chairman Kevin Holden said some residents had objected because they could no longer walk their dogs in the area, and the order had not alleviated the problem.
"We just simply have to pick it up in the bags and have to bin it," he said.
Flintshire County Council said it was looking at whether amendments to the PSPO could alleviate concerns about the extent of the exclusion zone.