Hay Castle's 600-year-old wooden gates to be restored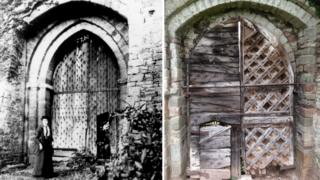 Wooden gates dating back at least 600 years are being removed for the first time in their history as part of a castle restoration project.
Hay Castle in Hay-on-Wye, Powys, is undergoing a £5.5m building overhaul.
On Friday specialists started the delicate task of removing the gates from their rusted hinges before they can be restored to their former glory.
The gates have not been opened for decades due to their poor condition.
They are believed to date back to the founding of the castle by the Normans in the 12th Century.
However, carbon dating and dendrochronology of timber samples has produced dates between the 14th and 17th centuries.
And a sample of wood removed from a slot next to the gate was dated to the 10th Century.
That is almost 200 years before the gatehouse was actually built, according to the Hay Castle Trust, the charity behind the conservation project.
Boss Nancy Lavin Albert said: "I just love the idea that the gates which were once firmly shut to keep people out will, in the future, be opened wide to welcome visitors into the castle."
The castle is being restored as a centre for arts and education with grants from several sources including the Heritage Lottery Fund and match funding provided by the Pilgrim Trust, the Friends of Hay Castle and the Aurelius Trust.
It is due to open to the public in 2020 once the restoration is complete.