Call to spend £1.4bn M4 relief road cash on public transport
Wales has to decide between a £1.4bn M4 relief road or better public transport, a new report has warned.
Future Generations Commissioner Sophie Howe said the 14 mile (23km) route around Newport will not cut congestion and is a "20th Century solution to a 21st Century problem".
She said money would be better spent on rail and bus links, cycle routes and the South Wales Metro's final phases.
Ministers said they are committed to improving public transport in Wales.
Business leaders have argued that congestion around the Brynglas tunnels in Newport is strangling the local economy, which the Welsh Government said is a "pressing problem demanding a solution".
A public inquiry into the planned relief road ended in March after 83 days and is due to report back soon.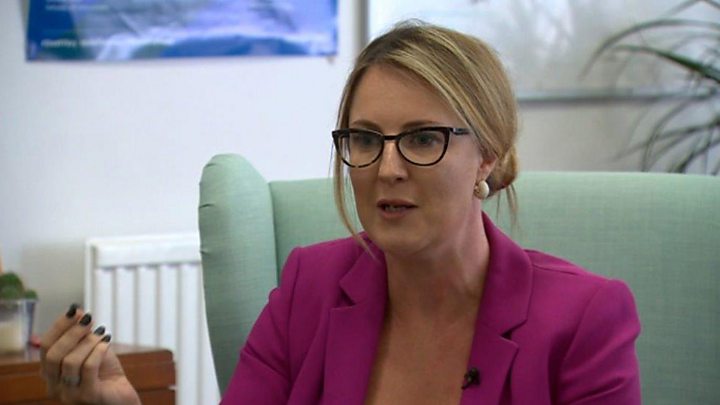 Other stories you might be interested in:
Ms Howe's role is as a guardian for future generations and she has a legal duty to advise ministers on the long term impact of Welsh Government projects.
She has been a major critic of the proposals and wants "further and faster" public transport improvements which make people healthier, reduce income inequalities, noise and air pollution and help cut carbon.
Ms Howe believes these measures could be achieved for a fraction of the cost of the proposed new motorway.
Now her office has produced this report in a partnership which includes the University of the West of England, the cycling charity Sustrans and the New Economics Foundation think tank.
It suggests:
"There is a huge risk in investing all of Wales' borrowing capacity in an old solution, leaving us ill-prepared to respond flexibly as technology and society changes," said Ms Howe.
It is more than 50 years since the M4 was opened and a £300m relief road plan was first unveiled in 1991 but was eventually shelved.
Ms Howe said the world had changed since the relief road was first proposed and given that further changes are difficult to predict, transport decisions needed to be "visionary and flexible".
Public transport needs to be flexible
Matt Steel and his wife commute by car to work together in Newport from St Mellons in Cardiff - and they bring their young son to the office creche. The six mile (9.6km) journey usually takes 20 minutes but on a bad day it can take an hour or even 90 minutes on the return home.
"Ideally, I'd love to be able to ride the bike - it's good for me and the environment," he said.
"But still they don't feel the safest roads approaching the office to cycle on. We'd love to use public transport - a bus or a train if possible - but we don't feel at the moment it provides the flexibility as a family to bring our son to work and return home afterwards.
"More frequent buses are important and living and working across two local authority areas it might take perhaps take two or three buses to get here."
With the huge amount of public funding involved, the report said it was important that this money was "working as hard as possible" and suggests alternative uses:
CBI Wales, which represents thousands of businesses, said it agreed with Ms Howe's calls for improvements to public transport.
However, director Ian Price said businesses had been "crying out" for a relief road for more than 10 years.
"The M4 is responsible for two-thirds of our national GDP and a relief road is projected to return to the Welsh economy £2 for every £1 invested," he added.
"We must all await the outcome of the official public inquiry into the M4 which took evidence from a long list of stakeholders."
That sentiment was also echoed by the South Wales Chamber of Commerce.
Chief executive Heather Myers said: "There doesn't seem to be any hard proposals, just idealistic views. These are not solutions to the problems Welsh businesses are facing right now, every day."
The Welsh Government said the public inquiry had provided the opportunity for everyone, including the FGC, to be involved in what would be a significant infrastructure investment for Wales.
"We shortly expect to receive the independent inspectors report which, along with the committed Senedd debate and vote, will inform the final decision-making on whether the proposed M4 project, in collaboration with the South Wales Metro, provides the long-term solution to the problems on this gateway to Wales," said a spokeswoman.
"Our commitment to improving public transport across the whole of Wales is clearly visible in the launch of our new rail services contract next month which will deliver significant improvements including more and better trains for passengers across Wales and the Borders, and that from 2023 an £800m investment will ensure 95% of journeys are on new trains."