Fans congratulate Wales women football team despite loss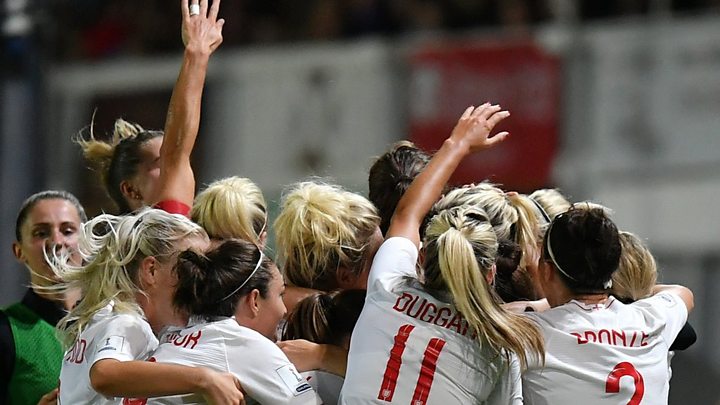 Football fans in Wales were left disappointed as the women's team missed out on automatic qualification the World Cup.
Wales played England in the winner-takes-all clash at Rodney Parade in Newport on Friday but lost 3-0.
The game was as close as Wales has come to qualifying for any World Cup since the men's team reached Sweden in 1958.
Ex-Wales international Laura McAllister said: "Everyone is disappointed, but we have achieved enormous things."
"We are light years away from England in terms of funding. Their investment into the game is huge, so it was a bit like David versus Goliath," added Prof McAllister, now an academic in public policy.
"I don't think we could have asked for more from the girls.
"We wanted to get there and we were so close. We've never been in the mix for a qualification, so to be only one game away is remarkable."
A win would have seen the team qualify for the World Cup in France next year - the first time a women's team from Wales would have ever reached a major tournament.
The team retains an outside chance of reaching the tournament but need to rely on other results going their way in order to make the play-offs.
The game attracted about 5,000 spectators - the largest attendance for a Wales Women's home match - and sold out in just 24 hours.
Despite their loss, fans said the team could be proud - before their defeat to England, they had gone the entire qualification campaign without conceding a goal.
Supporters joined together celebrating their achievements, determination and the profile they have given Welsh women's football.
Imogen Balkwill, an under-13s player for Coed Eva Athletic Junior Football Club, said: "If I could talk to the team right now, I'd say they did a good job, they did try their best.
"As my coach Steve always says to us, keep your head up."
Amy Jenkins, a former Wales Under-17 player, added: "It has been amazing to see the national team go as far as they have, especially when you see people you know playing and coaching at that level.
"The Welsh Premier Women's League has come on leaps and bounds and they were promoting it so much at the game tonight.
"There is always hope."
So what next for the women's game?
The Welsh Premier Women's League (WPWL) is the most competitive it has ever been with 10 teams competing regularly.
The league's players are kept on their toes from below by footballers from the 64 registered senior teams in seven local leagues below the WPWL.
But Wales' rise during the World Cup qualification campaign was unexpected because there is less money in the Welsh game compared to other places and some players still have to work part-time in other jobs.
"Every single team in the English Premier League is professional - their life is football," said Ms Jenkins.
"We have done what we have done against teams with professional players, so if we could push it and get Welsh clubs better, we could match that."
Earlier this week, Wales winger Natasha Harding said women footballers needed to be paid a better wage so more can play professionally in the future,
And Wales' all-time record goal scorer Helen Ward said: "Hopefully there'll be more opportunities for female footballers to be professional, to just have this as a job."
Established in 1973, this is the closest the Welsh women's team has ever come to major tournament.
And the success is unlikely to be a flash in the pan with promising results by the youth teams especially the U19s who have qualified for the Elite Round of the 2017/18 UEFA U19 Championships.
"The girls are technically good, but they have also connected with the sport and the public and conducted themselves really well throughout the whole campaign with their approach to fans and the media," added Prof McAllister.
"We have to maintain that interest now, and I hope people don't drift away. Having this platform has been great for women's football."