Footage emerges of 'incredibly dangerous' Wrexham driver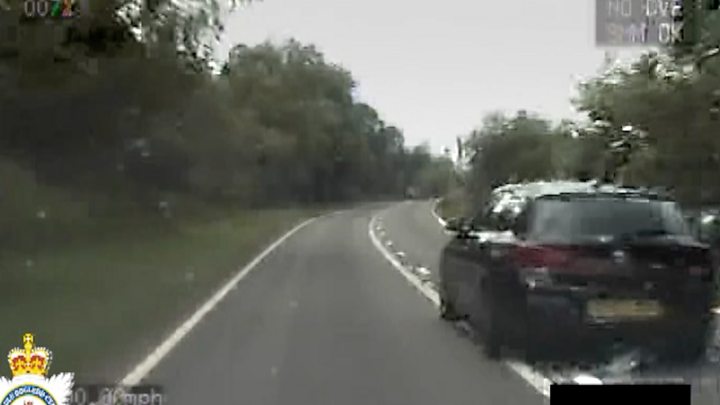 "Shocking" footage shows the moment a police car is passed on a blind corner.
Police film shows Llewellyn Parry-Jones, 21, illegally overtaking vehicles on the A4212 between Bala and Trawsfynydd in Gwynedd on 10 June.
Caught after unwittingly overtaking an unmarked police car, Parry-Jones was sentenced to eight months in prison, suspended for 18 months.
Parry-Jones was also given a two-year driving ban after admitting dangerous driving at Caernarfon Crown Court.
Police described his driving as "highly irresponsible and incredibly dangerous", adding that it was only through "sheer luck" nobody was killed.
'Could have ended tragically'
Parry-Jones, of Borras Hall Lane, Llan y Pwll, was fined £1,000 and ordered to pay more than £400 costs. He was also given a 120-hour community order.
He was arrested after the reckless driving of his black BMW was spotted by a police officer who was conducting patrols as part of North Wales Police's Op Darwen campaign.
"The footage is quite shocking and just shows how dangerous the manoeuvres were, with the driver not only risking his own life, but those of other road users," said Sgt Emlyn Hughes of North Wales Police.
"His driving that day was highly irresponsible and incredibly dangerous and it's only through sheer luck he didn't meet any oncoming traffic. This could have ended tragically."