Gwennan Harries: Women's football team 'inspiring' young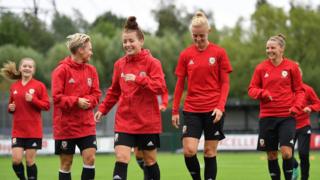 Former Welsh international footballer Gwennan Harries has praised the current national team for inspiring youth ahead of a crucial World Cup qualifying match.
Wales are due to play England at Rodney Parade in Newport on Friday evening.
A win for Wales will see them qualify for the Women's World Cup in France next year.
Ms Harries said the team has "done wonders" in raising the profile of women's football.
Speaking to BBC Radio Wales, the former player said the qualifying game on Friday is an important one for the Welsh women's side.
"It's an absolutely momentous occasion for Welsh football, and hopefully we'll have another successful summer out in France," she said.
"The girls have had a real platform in the media, and youngsters in Wales are recognising their role models in this country."
She added: "Whatever happens.......regarding the result, whether it's a win, loss or draw for Wales, they have done wonders for inspiring youngsters in this country."
Many people have taken to social media voicing support for the Welsh team ahead of the match.
Imogen Balkwill, an under 13's player for Coed Eva Athletic Junior Football Club, told BBC Radio Wales she is looking forward to watching the match with her dad and brother.
"I've been to three other men's matches, but this is my first women's match," she said.
The youngster also said it was "weird" that women did not play football at school in the past.
"It's mad because now they have a girls football team in nearly every school," she said.
"Obviously people say that football is a sport for boys, but it just shows that girls can be just as good, or even better than the boys."
The Wales v England match kicks-off at 19:45 BST on Friday 31 August.