Taser call for North Wales Police officers after attacks rise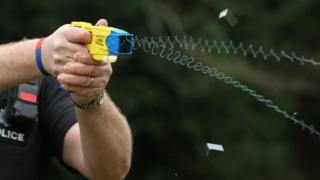 The majority of frontline officers in north Wales should be armed with Tasers to protect themselves from a rise in assaults, a police boss says.
North Wales Police and Crime Commissioner Arfon Jones said a series of attacks against officers last weekend was "contemptible".
One policeman had his eye gouged, another suffered a broken nose and five more were assaulted.
North Wales Police said it would review the assaults in detail.
Figures show assaults on police in North Wales have trebled over five years. Last month there were 41 assaults on North Wales officers.
Acting Chief Constable Gareth Pritchard said he was "worried" by the spate of assaults in Caernarfon, Bangor, Bala, Wrexham and Flintshire over the Bank Holiday weekend.
Mr Jones, a former police inspector, said he wanted to give more confidence to officers on the frontline by arming more with Tasers.
"The attacks over the Bank Holiday weekend in north Wales were despicable," he said. "The assaults are becoming more and more serious.
"A higher percentage of officers in north Wales carry Tasers than is the case in many forces, but I would now like to see the majority of officers equipped with a Taser when they are out on the streets so they can protect themselves."
Tasers fire two small dart-like electrodes before delivering a high-voltage shock to temporarily disable a suspect.
They were first used by police forces in England and Wales in 2003, and have become linked to a number of deaths.
Earlier this year South Wales Chief Constable Matt Jukes said all frontline officers in the force could be armed with Tasers to face the increasing threat of gangs carrying knives.
Gwent Police said it was considering training more officers to use the device.