Social media abuse action call by MP Stephen Doughty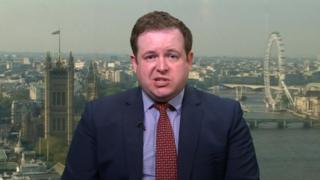 Social media has become an abusive "cesspit" for public figures, according to a Labour MP.
Stephen Doughty said the platforms are "not doing enough" about the problem after Facebook told him an abusive message did not violate its own rules.
"Just the same way you wouldn't expect this behaviour to be expected in person, it shouldn't be acceptable online either," he said.
Facebook said there is no place for bullying or harassment on the site.
A study by the University of Sheffield found abusive messages sent to politicians online increased from about 10,000 during the 2015 general election to 25,000 during the snap campaign in 2017.
The Cardiff South and Penarth MP was told by Facebook that an abusive message, which used strong language, did "not violate our policies".
In a message, the site said the type of activity he had reported "would, broadly speaking, qualify as bullying behaviour".
"However, we do not apply our bullying policies to public figures because we want to allow discourse, which often includes critical discussion of people who are featured in the news or have a large public audience."
Speaking to BBC Radio Wales on Friday, Mr Doughty said: "I believe social media companies are simply not doing enough. They claim they are happy with the voluntary approach but I think increasingly it's becoming a bit of a cesspit online."
Mr Doughty said he has received abusive comments in the "last couple of days" and regularly gets abuse online.
"Facebook has come back to me and effectively said public figures are subject to a different level of abuse that other people, and therefore they won't remove comments or they won't close down comments by individuals even if they're quite extreme," he said.
"We've seen in the last couple of days, an Australian senator being said that they should be shot and Facebook refusing to remove it. And this is just one of many many examples. "
He added: "Just in the same way as you wouldn't expect this behaviour to be acceptable in person, or some person to walking into a room shouting racist or sexist or homophobic or abusive language, it shouldn't be acceptable online either.
"Unfortunately the more that we tolerate this type of behaviour, the more it can lead to a small number of more extreme individuals deciding it's okay to carry out actions in person."
Facebook said on its website it will "remove content that purposefully targets private individuals with the intention of degrading or shaming them" but "bullying policies do not apply to public figures because we want to allow discourse".
A Facebook spokesman said: "There is no place for trolling, bullying or harassment on Facebook.
"We have explained to Stephen Doughty that we absolutely take action against any hate speech or credible threats of violence made towards public figures, just as we do for anyone on Facebook."