Anglesey man jailed over £3 debt attack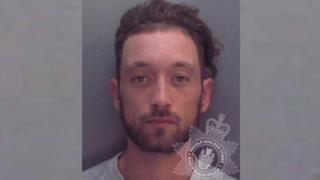 A man has been jailed for five-and-a-half years after viciously attacking a 44-year-old over a debt of £3.24.
James Reilly, 25, of Newborough, Anglesey, kicked and stamped on Malcolm Jones who had asked for his money back.
Reilly who pleaded guilty to inflicting grievous bodily harm with intent, claimed he was acting in self-defence.
But Caernarfon Crown Court heard his victim, who has epilepsy, spent about a month in hospital after suffering a fractured hip and arm.
Prosecuting counsel Sion ap Mihangel said: "This was a sustained assault. There were repeated kicks and repeated punches."
The court heard that on 25 April Reilly borrowed the money from Mr Jones, who went to collect the sum owed later that day.
Mr ap Mihangel said Mr Jones picked up a wooden chair leg before being knocked to the ground by another man.
While on the ground, Reilly punched and kicked Mr Jones' head and stomach.
Defence barrister Jonathan Austin said his client had used "excessive self-defence" but said the defendant, who has an ongoing drug problem, was genuinely remorseful.
Judge Rhys Rowlands said Reilly had committed a serious assault on a man with health problems.
Reilly also pleading guilty to an earlier offence of having a Stanley knife in a public place.
"These are both very serious offences which would call for an immediate custodial sentence," Judge Rowlands said.