Swansea consortium targets African aid contracts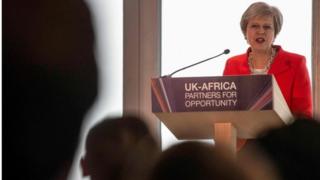 Swansea University has formed a consortium with two firms to target UK overseas aid contracts.
Water technology company Hydro Industries, from Carmarthenshire, and Swansea-based construction firm Dawnus already have projects in Africa.
The partnership was unveiled during a trade mission in South Africa, attended by Prime Minister Theresa May.
Ministers argue that aid could deliver a "bold new Brexit-ready proposition" to boost trade with developing nations.
Hydro, based in Llangennech, is already involved in providing clean drinking water in countries including Sudan and Somalia.
As well as Wales-based building projects, Dawnus has been working in Africa since 2010 and has civil engineering contracts in Liberia, Zambia, Senegal and Sierra Leone. These include a railway and dam projects, as well as hydro electricity.
The UK government has signalled that the international aid budget should be spent more strategically in the national interest.
Hydro Industries chief executive Wayne Preece said: "Having witnessed the transformative effect of our technology on the lives of some of the most disadvantaged in the world, the prospect of doing so on a much larger scale with such strong partners and the financial clout of the UK government would be extremely exciting."
Andy Peters, international executive director of Dawnus added that he was "delighted" with the opportunity to collaborate on important overseas projects.
Welsh Secretary of State for Wales Alun Cairns has joined the trade mission and said he wanted "to see more of the unique skills and expertise Wales has to offer taking their place on the supply chain".
Last year, Wales' exports to sub-Saharan Africa were worth £170m, compared with £9.9bn to the European Union.
Analysis from Sarah Dickins, BBC Wales economics correspondent
This shows how UK taxpayers' money can be spent in other parts of the world in a way that benefits other countries but also businesses at home.
Both companies are already leading in their particular fields and what is good for Wales is that they are rooted here. For once, profits that are generated carrying out this work in Africa will return to Wales.
This is not by any means the first time that either Dawnus or Hydro Industries have worked in countries outside the European Union.
However, we should be careful not to overplay this consortium's success in terms or arguments about opportunities or challenges post-Brexit.
It needs to be remembered that this contract is from the UK government's overseas aid budget which in total is worth around £14bn. The UK government has made it clear that it wants to use that money as much as possible to benefit overseas nations and at the same time UK firms.