Justin Trudeau 'wowed' by Welsh slate from pupils to leaders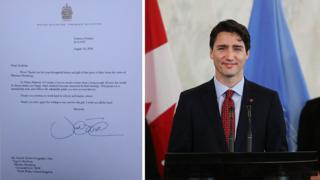 School pupils have sent slate to world leaders to try to help secure heritage status for north Wales quarries.
Ysgol y Moelwyn in Gwynedd sent a piece of slate branded with the Ffestiniog Slate Festival logo to more than 200 countries.
Canadian Prime Minister Justin Trudeau and Prince Albert of Monaco are among 15 world leaders to respond.
Mr Trudeau said the campaign reflected the "admirable pride" the pupils had in their local history.
The project is part of Blaenau Ffestiniog's campaign to secure Unesco World Heritage Status for the slate quarry areas of north Wales.
The slate gifts have also been sent to UK politicians, with replies from Prime Minister Theresa May, First Minister Carwyn Jones and Plaid Cymru leader Leanne Wood and Labour leader Jeremy Corbyn.
"There's a lot of excitement about it," said Gareth Davies, the geography teacher co-ordinating the project.
"There's a great deal of anticipation about receiving the messages," he added.
"The kids love it - when I see them, they are always asking who has replied.
"Even though I got married on Wednesday I'm still checking the post and e-mail for the next reply.
"Some send pictures of themselves with the slate while others have sent personal letters of appreciation."
It cost the school about £1,500 to send the pieces of slate to more than 200 nations.
So far, Luxembourg Prime Minister Bettel, President of Malta Marie-Louise Coleiro Preca, President Macron of France, German Chancellor Angela Merkel and Ranil Wickremesinghe, the Prime Minister of Sri Lanka have responded.
President Savarin of Dominica and Moon Jae-in, the President of South Korea, have also sent their thanks to the students, while a letter has been sent from the office of New Zealand's Prime Minister Jacinda Ardern with the promise of a formal response when she returns from maternity leave.
"We just want heritage status for the quarry areas in north Wales. We thought this would be a good way of doing it, and teaching the children about the world," he added.