Woman rescues boy, nine, from sea at Blue Pool Bay, Gower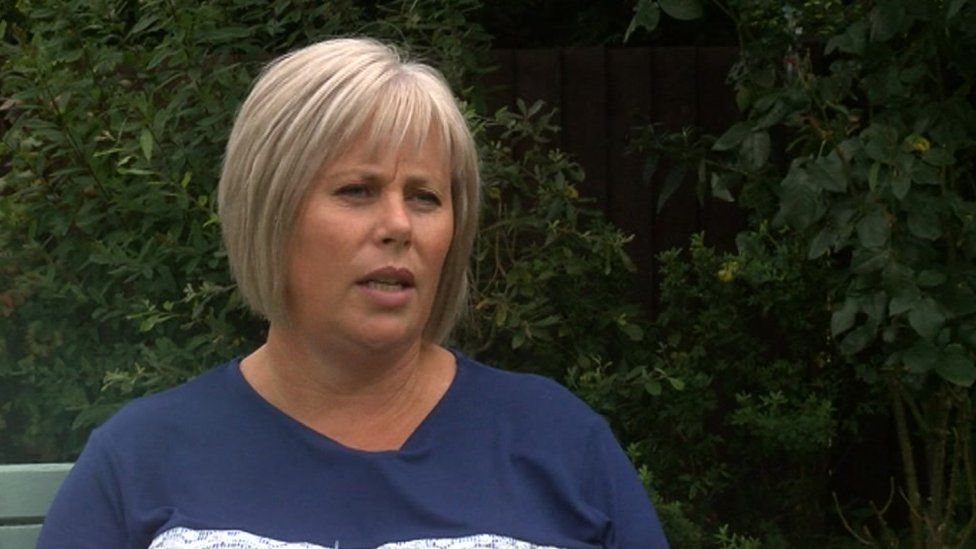 A mother is calling for safety improvements after she helped rescue a nine-year-old boy from drowning in a "notorious" area off the Welsh coast.
Ceri Saunders, 45, was walking her dog when she spotted the child in the water off Blue Pool Bay on the Gower, near Swansea.
She swam to him but could not swim ashore as the current was too strong.
The RNLI, who rescued them, said her advice to the boy to float until help came "probably saved their lives".
Rescuers said Ms Saunders, who wants to see more signage put up on the beach to stop incidents like this happening again, had been "in a serious way" with hypothermia when the pair were saved from the water.
Burry Port RNLI said they have made a number of rescues from Blue Pool Bay this year, which is "notorious" because of its deep water, strong current and heavy surf.
"This one was probably the worst we have had to attend," said Alun Wells of the RNLI.
Ms Saunders said her 14-year-old son first entered the water to help the boy - whose parents were on the beach - but he could not reach him during the incident on Sunday.
She then went in and reached the boy but the current was "extremely strong" so they could not swim ashore.
Ms Saunders advised they floated on their backs until help arrived.
"It's a parent's worst nightmare," she said.
"I decided on the spur of the moment that's what I was doing and that's what I did... thankfully for all concerned we're here to tell the story.
"The best opportunity for survival and to be rescued was to float on our backs. He listened to me. He did exactly what I asked him to do."
Following the rescue, Mrs Saunders, who is now recovering at home, said: "Signage has got to be put up, there has to be more awareness.
"If anything comes out of this I don't want it to be about me, I don't want it to be what I've done, I want it to be what can we do to make it not happen again?"
The RNLI's message to people that get into difficulty in the water is not to fight the current but to "float to survive".
"The advice is stay calm, float on the surface and not to use any energy."
A fatigued Ms Saunders and the boy were rescued about 20 minutes after the RNLI got the call from the UK Coastguard at 17:00 BST on Sunday.
They were airlifted to Morriston hospital in Swansea and she treated for hypothermia and put on a drip. Both are now recovering at home.