Llanberis man among first trio to climb Himalayan route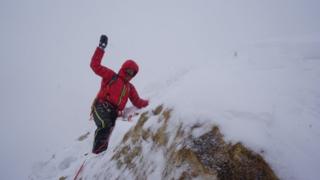 A mountaineer from Gwynedd has become one of the first people to climb a 7,000m (23,000ft) Himalayan mountain.
Tom Livingstone, an outdoor instructor from Llanberis, climbed Latok 1 in Pakistan with his Slovenian partners Luka Straznar and Aleš Česen.
The trio ascended the mountain from the notorious north route, which has never been conquered, in a week-long climb.
He said they "hit the jackpot" after switching to the south side for the last ascent to reach the top.
Despite never visiting the Himalayas before, Mr Livingstone and his companions climbed Latok 1 last week with no outside help and no oxygen masks.
The group only relied on a pair of ropes as they trekked with heavy rucksacks.
"We were totally self-sufficient. We were not relying on anyone else to be there or the possibility of rescue," he told BBC Radio Wales.
"There was a lot of climbing with ice axes and crampons and there was lots of times we could climb together and climb quickly, and also times when we had to go much slower."
Latok 1
It stands at 7,145m (23,422ft) and is located in the Karakoram range in the Himalayas
About 30 attempts have been made to reach the summit via the north ridge but all have failed
The summit was reached by a Japanese team which climbed up the south side of the mountain in July 1979
It is 851 miles (1370km) away from Mount Everest
Safety was paramount on the ascent, especially after a Russian climber fell to his death just a month before.
"That definitely put us off and made us think twice about going for the same climb," said Mr Livingstone.
"We thought what they were doing was quite a lot riskier than what we had in mind, so we sort of decided if we could manage the risks and if we could go for this climb and do it in a reasonable amount of time then we would go for it."
The summit had been reached before, in 1979, by a group of Japanese climbers who scaled the southern side of the mountain.
But the trio were the first to successfully tackle it mostly from the north, on 14 August, although they had to change direction as they approached the top in order to reach the summit, meaning they did not complete the north ridge.
"There's great views up there," Mr Livingstone added.
"It's quite high up (and) there's not much oxygen up there. It's like trying to walk around with a bag on your head. We were quite tired and keen to get to the top, but we were quite keen to get down again."