Taxi driver escapes ban after hitting train at crossing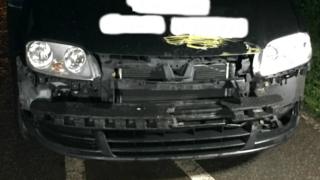 A taxi driver who drove into a moving passenger train has avoided a driving ban.
Brian Mazey, 45, of Saundersfoot, misjudged the speed of the train at a crossing in Pembrokeshire and struck the rear wheels of the carriage, which had 17 passengers on board.
Mazey was fined after he admitted careless driving on 30 April last year.
Judge Peter Heywood told him at Swansea Crown Court: "You should have seen it, given the size of it."
Mazey drove his Vauxhall taxi into the 20:37 train from Whitland to Pembroke Dock at the crossing at Beavers Hill near Manorbier.
He had six penalty points added to his licence, was fined £500 and ordered to pay £250 in prosecution costs plus a court surcharge.
'Jolt'
Train driver Mark Williows had seen the headlights of Mazey's approaching car but assumed it would stop.
He then felt a jolt and stopped to see Mazey trying to reverse away from the train.
No-one was injured however rail services were disrupted for two days, the court heard.
'Not worth the risk'
Investigating officer PC Chris Draisey, of British Transport Police, said: "Any deliberate misuse of level crossings is extremely dangerous.
"Every time someone walks or drives on the tracks once the barrier sequence has begun, they are risking their life and the lives of other rail users.
"Mazey's actions were not only incredibly careless but showed a complete disregard for his own safety and that of others. The consequences could have been far more serious.
"Had the train arrived just a second sooner, it could have been a very different story.
"We understand that waiting at a crossing can be frustrating, but second guessing when a train is due through simply isn't worth the risk."
Network Rail say they are investing more than £100m to improve level crossing safety across Britain.