Swansea nurse 'killed herself after being bullied at work'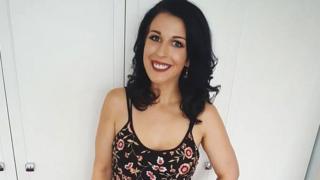 A nurse killed herself after being "bullied" by colleagues at work, an inquest heard.
Rhian Collins, 30, was verbally abused by staff at Swansea's Cefn Coed Hospital who made her life "very difficult", the court was told.
She was found dead at home in March. A coroner ruled on Thursday that she had intended to take her own life.
The health board which runs the hospital said bullying was "not acceptable".
Miss Collins' family have been invited to meet health bosses and discuss issues raised in the inquest, the board said in a statement released after the hearing.
Investigating officer Sgt Nia Lambley told the inquest in Swansea mother-of-two Miss Collins "was having issues at work".
"She was being sworn at, bullied and believed she was continually given the worst shifts on the ward," Sgt Lambley said.
"This led to her becoming obsessed with her appearance."
She began going to the gym four times a day and taking slimming pills, the inquest heard.
Miss Collins' fiancé David Reed said she had threatened suicide "many times" but the threats were dismissed as throwaway comments after arguments.
Her family told police she had struggled to cope with "stress and unsociable hours" while working at the mental health hospital.
They said she had appeared "run down and exhausted" in the weeks before she died, and had become distant from relatives.
Mr Reed found Miss Collins' body in her home in Swansea.
Acting senior coroner Colin Phillips said: "There was no third-party involvement and no suspicious circumstances.
"From the evidence, I conclude that she intended to kill herself."
Abertawe Bro Morgannwg University Health Board, which runs Cefn Coed Hospital, said: "Our hearts go out to Rhian's family, and we offer our sincere condolences for their very sad loss."
Workforce director Hazel Robinson added: "We would like to make it clear that bullying behaviour of any kind is not acceptable.
"We need to fully understand the issues raised during the inquest into her tragic death, and invite her family to meet with us as soon as they can to explore these further."