Cardiff's 'heritage homicide' must end to attract visitors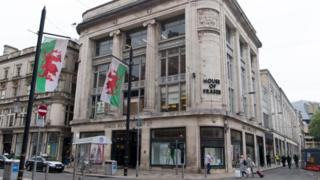 "Heritage homicide" is taking place in Cardiff with a failure to use historic buildings to attract visitors, a marketing expert said.
Roger Pride called for "imaginative uses" for architectural gems, many of which are around St Mary Street.
His warning comes as chain restaurants continue to move in - with a complex being built on nearby Church Street.
A Cardiff council spokesman said planning applications for buildings were judged on their merits.
Licensed premises in the city have risen by 20% since 2013 with numbers predicted to keep growing.
Historian Bill Jones questioned if the city was being shaped around catering for "big event" crowds and the growing influx of students in high rises.
A cocktail bar, burger, Indian and Vietnamese restaurants will open on Church Street, while similar outlets are planned for the Brains brewery site.
"In an increasingly homogenised world, successful cities show their distinctiveness and character," said former Welsh Government marketing director Mr Pride.
"So in my opinion, it's important that the area is populated by independent businesses and brands with a real provenance and not just chain restaurants and bars."
He lamented the loss of Cory Hall, which was opposite Queen Street Station and Westgate Street's fire station, now a car park.
Historic buildings still standing but not fully utilised include the former post office on Westgate Street, while Mr Pride said House of Fraser could become Cardiff's version of the Queen Victoria Building in Sydney, which has floors of independent and niche traders, cafes and galleries.
Its future is uncertain after the company went into administration, however, Sports Direct owner Mike Ashley bought it last week.
"Over the years Cardiff has lost too many buildings of genuine character," Mr Pride added.
"This heritage homicide has to stop and we need to make more imaginative use of existing buildings.
"Most of the cities that are successful in attracting visitors in Europe are those with interesting and authentic architecture."
Dr Eleri Rosier, a Cardiff University marketing expert, said while pubs were in decline, new chain restaurants would continue appearing.
"London remains a dominant force for eating and drinking out in the UK, but restaurant and bar operators are increasingly putting their focus on other big cities for their openings," she said.
"Cardiff, Leeds and Liverpool have seen their supply of licensed premises increase by more than a fifth over the last five years."
Dr Rosier believes London prices could help fuel a further 20% turning to Cardiff in the coming years.
Rather than crowd other niche businesses out, this could help sustain them, according to Centre for Cities' Anthony Breach.
The think tank's research shows 10% of Cardiff's outlets are food and leisure, which compares with 9% in Newcastle - a similar-sized city, which also has a stadium at its heart.
While this is above the UK average (Manchester has 7%), they draw potential shoppers into cities, added Mr Breach, with a key reason House of Fraser went into administration the fact people are buying online.
"It may seem like over-saturation of that [restaurant] market but these are resilient against internet competition," he said.
Huge developments such as Central Square should also bring in thousands of workers to support other types of businesses.
The Cardiff council spokesman cited the revamp of the Coal Exchange as an example of where the authority had worked with a company to bring a historic building back into use.