Eight people injured by loose horse at Pembrokeshire Show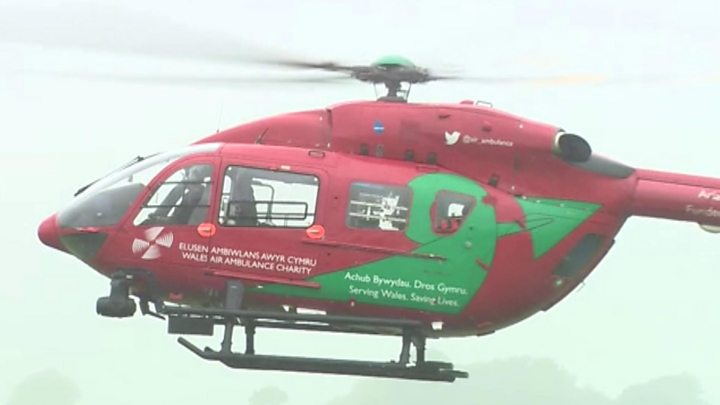 Five people, including a 12-year-old boy and 83-year old man, have been taken to hospital after a horse bolted during a farming show.
The horse, which was in competition at the Pembrokeshire County Show, threw its rider and broke loose into the crowd before it went "on a rampage".
Eight people were injured after being knocked to the ground at the show in Withybush, near Haverfordwest.
Organisers said there would be a full review into the incident.
The air ambulance was also sent to the scene but was not required.
Parts of the showground were closed off as a result of the incident on the second day of this year's event. The horse has since been captured.
Speaking soon after the emergency services arrived at the scene, Jonathan Twigg, who witnessed the event, said: "A horse, presumably a show jumping horse, seemed to break free from the area it was being held and just went on a rampage.
"It bolted up the avenue through the crowds here and took maybe a dozen people out of the way as it just ran straight into them."
The annual show, which attracts around 100,000 visitors a year, was first held in 1784.
Mike Davies, chairman of the Pembrokeshire Agricultural Society's Trustees, which organisers the event, said: "At the moment our thoughts are with those who were injured.
"We also want to thank the emergency services who were on the scene very quickly and assisted the injured."
One eyewitness, who did not want to be named, said: "The horse was out of control, jumped out of the ring, through the crowd and in between some of the stands.
"I've been showing horses for 35 years, and I've never seen anything like this before. Everyone's in shock."
Another eyewitness said he was surprised more people were not hurt.
"The huge horse ran through a really crowded part of the show, and hit six people," he added.
"It was a show jumping horse, it ran through right past where I was standing. It was quite scary."