HIV drug research in Wales to cut infection risk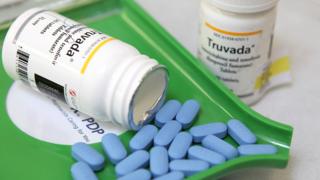 A new study into a "game-changing" drugs to prevent HIV infections hopes to pinpoint ways to make them even more effective.
The drugs - known as PrEP - have been proven to reduce the chance of acquiring an HIV infection by 86%.
Nearly 400 people have been taking part in a three-year trial of the drugs in Wales since last summer.
Cardiff University will now examine how people have been taking the medicine - and if that affects the protection.
The drugs are taken as part of a prevention regime and have been offered to those with an increased risk of getting HIV from sexual behaviour or other infection exposure risks, such as intravenous drug use.
The medications use anti-viral drugs successfully used to treat HIV patients, after researchers discovered the same drugs could also protect against acquiring the infection.
"Taking PrEP as prescribed is essential for its effectiveness," explained Dr David Gillespie, who is deputy director of Cardiff University's infections, inflammation and immunity division.
"However, the majority of guidance material being used in practice has been informed by anti-retroviral therapy for HIV treatment rather than HIV prevention."
He said their research, which is being funded through a Welsh Government fellowship award, would focus on developing guidance for taking the drugs as a preventative measure, in the hope it can improve the success of stopping infections.
In the past six years, about 150 new cases of HIV infection have been diagnosed annually in Wales. The vast majority of these were sexually transmitted.
"This will be world-leading research that can influence the services for people at risk of developing HIV across the UK and beyond," added Prof Kerry Hood, director of the university's centre for trials research.