Unemployment in Wales falls slightly to 4.3%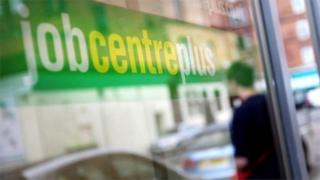 Unemployment fell between April and June to 4.3% in Wales, according to the latest figures.
There are now more people employed than at any time since 1975. In Wales 74.2% of 16 to 64-year-olds are in work.
Compared with a year ago, there are 31,000 more in work, while unemployment has stayed broadly the same.
However, research done for BBC Wales suggests typical household incomes in Wales have risen by only 1.1% in real terms in the last decade.
Research by the Resolution Foundation think tank showed the typical household in Wales has an income of £20,900, which is only 1.1% higher than 2008, as the financial crisis was unfurling.
Incomes in Wales dipped during the financial crisis and continued to fall until 2013 and have struggled since.
Rise and falls
Across the nations and regions of the UK, Wales has seen the smallest growth in incomes in real terms.
In contrast, the East Midlands and Yorkshire and Humberside have seen incomes rise by 8.9% in the last 10 years.
However, two regions of the UK - London and south-east England - have seen typical household incomes fall in the same period.
In London incomes have fallen in real terms by 1.8%.
[an error occurred while processing this directive]
According to the latest labour figures released by the Office for National Statistics, the UK unemployment rate is 4% of working age people.
Wales still has one of the lowest proportions of 16 to 64-year-olds in employment in the UK - only Northern Ireland, Yorkshire and Humber and north-east England have lower levels.