Car crashes into lamp-post outside couple's Treharris home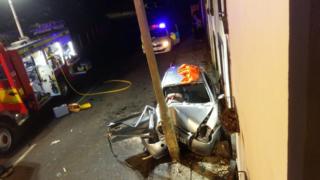 Police have launched an appeal after a car crashed into a lamp-post, leaving a couple temporarily trapped in their home in Merthyr Tydfil county.
One man was taken to hospital with serious injuries after the crash at 01:26 BST on Saturday in Treharris.
A second man, the suspected driver, was arrested and is under investigation.
The angle of the car meant that Belinda Jeffries and her husband Nigel were unable to open their front door while emergency services attended the scene.
Mr Jeffries alerted police when the couple heard a bang outside their window in the early hours of the morning.
"We were woken up by a big bang and crash under the bedroom windows," Mrs Jeffries said.
"My husband could see the car outside crashed into a lamp-post. He went to the front door and the car was so close up to the door and wall he couldn't get out.
"He could see smoke coming from the bonnet and a passenger slumped inside the car.
"He phoned 999 and they came very quickly thank goodness."
She added that there had been crashes on the "dangerous stretch" of road before, and said that there should be calming measures in place to minimise the risk to motorists.
Police are now appealing for witnesses to the collision.