South Wales Dambusters links marked with museum donation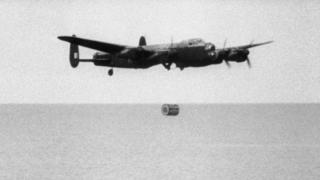 A museum in an area with strong links to the Dambusters mission during World War Two will receive a special donation from the London Mint on Saturday.
Porthcawl Museum, in Bridgend county, will get replicas of blueprints, photos, maps, plans and other documents that once briefed Squadron 617 for the historic mission.
It saw "bouncing bombs" target dams in Germany on 16 May 1943.
Eight planes were lost and 53 men died in raids immortalised by the 1955 film.
Fourteen of the 16 aircraft involved in the mission involved crew who had trained at RAF Saint Athan, in the Vale of Glamorgan, and RAF Stormy Down, near Pyle, Bridgend.
The event will be attended by Belinda Brown whose second cousin Gordon Yeo, an RAF gunner from Barry, Vale of Glamorgan, was one of the heroes of the Dambusters raid.
A memorial to Sgt Yeo's bomber crew was unveiled in northern Holland, in May.
Speaking to Good Morning Wales, Belinda told the story behind her cousin's time with the RAF, which ended his his death at the age of 20.
"Gordon was born in Barry, he lived in Castle Anne Street, and became a drapers assistant when he was 14," she said.
"He started volunteering for the RAF, and went to Canada to train as a pilot, but something didn't quite work out, and he became a front gunner and he was transferred to the 617 squadron.
"On one of the training runs, he flew over Barry and that was the last time he saw Barry."
Gordon was involved with the breach of the Mohne Dam, which flooded the Ruhr valley and of villages in the Eder valley. His plane was shot down following the operation.
"Can you imagine he was the front gunner in that position," Belinda added.
"You're flying at 60ft over the low lands of Holland and then you approach the Mona Damn. I've been there, I don't know how they did it. It was a navigation masterpiece.
"They aimed at the turrets and they dropped the bomb, and they had all the guns, the German's, shooting back and attacking them. It was just a remarkable piece of heroism.
"His body washed up at the end of May and he was buried in Bergen cemetery.
"His mother, father, sister and grandmother never got over the fact that they lost their only son."
The donation from London Mint Office will be displayed at Porthcawl Museum, together with a commemorative coin struck to mark the 75th anniversary.