More shooting would 'shatter' St Melangell's Church shrine sanctuary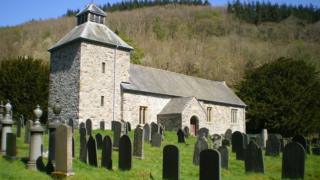 Proposals to extend commercial shooting close to one of Europe's oldest surviving Romanesque Shrines has been opposed by the local bishop.
The Bishop of St Asaph says pilgrims from around the world descend on St Melangell's Church, near Pennant Melangell in Powys, to find sanctuary.
Powys council is considering plans to build a clay pigeon shooting facility in the "peaceful" Llangynog Valley.
Rt Revd Gregory Cameron said the plans would affect the shrine's attraction.
"A clay pigeon shoot or the introduction of the shooting of new species would extend the period of shooting," he said in a letter to Powys planners.
"So that the peace of the valley, and the attraction of that peace to the many hundreds of visitors of all faiths and none, from all over the world, that seek the peace of the shrine of St Melangell, would be shattered on an almost permanent basis."
Melangell is thought to have been the daughter of an Irish king who fled to the valley in the sixth century to escape the marriage her father planned for her.
According to legend, she used her cloak to shelter a hare that was being hunted by Brochwel Ysgythrog, the Prince of Powys, and prevented his hounds from catching it.
Brochwel, impressed by her compassion and courage, gave Melangell the valley where she was living to be a place of sanctuary.
Rt Revd Cameron added the building was recently described as "the single most holy site in the United Kingdom in a major book describing all such sites across the country".