Dyfed-Powys Police officer who bit man on nose sacked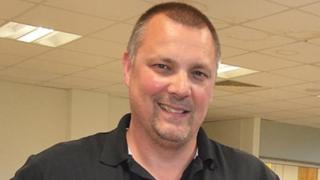 A police officer who grabbed a man by the neck and bit his nose in a pub has been sacked.
PC James Morgans, 47, attacked Scott McDonald at the Coach House, Fishguard, Pembrokeshire, in April 2017.
A special case hearing looked at his conduct and it was decided to dismiss Morgans without notice.
He was convicted at Swansea Crown Court of causing actual bodily harm and last week handed an eight month suspended prison term.
"The officer's behaviour had fallen well below the standards expected, and that the need for public confidence to be maintained in Dyfed-Powys Police is paramount," the force said in a statement.
The court heard during the trial earlier this year that Morgans, who was off-duty at the time, was approached by victim Mr McDonald to engage in "banter".
The men knew each other as they both played pool competitively for different teams.
When Mr McDonald, then aged 22, called Morgans over a second time, the police officer grabbed him and bit him on the nose.
CCTV evidence that was shown to the court showed the bite lasted up to 15 seconds.
Morgans was then pulled away by one of the victim's friends but had attempted to push others away as they tried to intervene.