Seal pup Aye-Aye found abandoned on Abereiddy beach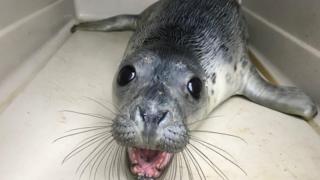 An abandoned seal pup has been rescued from a Pembrokeshire beach - the first to be found this season.
RSPCA Cymru said it was "unusually early", with the seal season usually starting in mid-September.
The pup found on Abereiddy beach was named Aye-Aye, a type of lemur, after it was decided to name rescued seals this year after rare wildlife species.
In 2017-18, more then 100 seals were rescued from west Wales, with the charity braced for another busy year.
Aye-Aye, a female that was very nasally congested and thin for her age, was taken to the RSPCA's specialist centre in Taunton for rehabilitation.
RSPCA Cymru's Ellie West said if anyone spots a seal pup on a beach to keep a safe distance and monitor it for 24 hours to see if the mother returns.