Eisteddfod: Senior figure defends Uganda 'savages' remark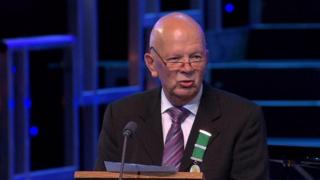 The chairman of the Eisteddfod's governing body has defended referring to people from Uganda as "savages".
Eifion Lloyd Jones said people had "misunderstood" his comments during an Eisteddfod ceremony on Sunday morning.
Mr Jones was responding to a call for him to stand down from his position in the Eisteddfod Court because of his remarks.
He said he assumed the request was "a joke" and that he would not be stepping down.
During Sunday morning's traditional ceremony to welcome the Welsh diaspora to the Eisteddfod, Mr Jones referred to "savages" from Uganda, Rhyl and northern England in remarks about the travels of the new president of the Wales and the World body, Iori Roberts.
Speaking at an Eisteddfod press conference on Thursday, Mr Lloyd Jones said people had "misunderstood" what he said.
"It was a playful remark in passing about Iori Roberts who, as a teacher, had been a teacher in several countries in the West Indies and Africa.
"And also, with more relevance to what I had to say, he had been at Ysgol Uwchradd Emrys ap Iwan in Abergele, where I have friends who have been teachers, as well as in northern England."
Mr Jones said he "would be the last person to disparage any minority groups" and anyone who thought he had intentionally sought to offend anyone "from Wales, England or any other country had made a huge mistake".
Marc Phillips, a member of the Eisteddfod Court, called for him to step down and said the type of vocabulary used was "worthy of the old British Empire".
"This is a shameful thing which doesn't reflect well on the Eisteddfod and it's brought the Eisteddfod into disrepute by expressing himself in such a way," he added.
Asked if he would resign from his position, Mr Jones said he thought calls for him to step down "were also a joke, and if people can't see what's happening, can't tell what's occurring and how people feel, then I don't think it's worth responding".
He said anyone who interpreted his comments as racist had seriously misunderstood his speech.
It comes in the same week that the archdruid apologised for any sexist offence made in remarks when awarding the crown for poetry to Catrin Dafydd.