'Vile' racist from Brynamman jailed for 16 months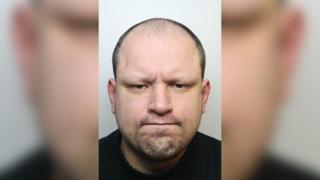 A "vile" racist who claimed Hitler was born "100 years too soon" has been jailed for 16 months.
Jonathan Jennings, 34, of Brynamman, Carmarthenshire, admitted at Swansea Crown Court to making online threats intended to stir up racial hatred.
The court heard that Jennings used a social media profile to make threats against Muslims, Jews and members of the Labour Party.
Judge Geraint Walters said his views would "outrage any decent human being".
Jennings, of Heol y Gelynen, posted vicious communications online between March and August 2017.
The court heard Jennings created a social media profile where he alleged to be "a champion of free speech", describing himself as a white libertarian and white dissident.
The matter was reported to police by a member of the public who had read some of the comments Jennings had posted online.
Despite being warned by police, Jennings continued to post racist messages and stir up religious hatred.
One message from Jennings, who has a degree from Lampeter University, claimed Muslims should be "forcibly sterilised" and "sentenced to death".
Another encouraged people to "hunt down and kill" businesswoman and leading Remain campaigner, Gina Miller.
Sentencing Jennings, Judge Walters said his comments were "vile, venomous and words which would rightly outrage any decent human being".
The court heard Jennings had a number of friends who belong to the New Apostolic Church in Brynaman.
Judge Walters added that this "shows how truly mixed up your views really are".