Newport department store Wildings to close after 144 years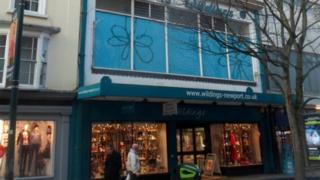 A department store which has traded for 144 years in Newport city centre has announced that it will close.
Wildings will shut its doors days before Christmas, with 23 jobs set to go.
The store opened in 1874, but its owners said financial losses had been too big in recent years to keep the business going.
Managing director Peter James said it was "a very sad moment" and a closing down sale will begin in October.
"The losses we have been experiencing in recent years have been too great to sustain," Mr James said.
"Wildings has a rich and long history, and for most of that history it was a very successful Newport business which was run by local people.
"Over the years we spread our interests far beyond the boundaries of our home town."
Wildings is the third department store closure to be announced in south Wales in recent months, after House of Fraser said it will close its shops in Cardiff and Cwmbran with the loss of nearly 440 jobs.