Eisteddfod: Art stretches out at seat of Welsh politics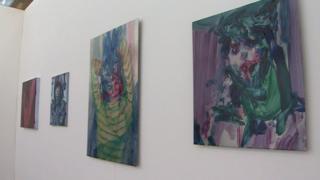 The Assembly building in Cardiff Bay is accustomed to the colours red, blue, green - with a splash of purple and yellow - but this week, the politics have given way to art in all its forms.
All corners of the Senedd have been taken over by paintings, sculpture and ceramics for the National Eisteddfod.
Presiding Officer Elin Jones said she hoped the exhibition would lead to a more permanent display in future.
Meanwhile, the Prose Medal has been won by Manon Steffan Ros.
On the theme of energy, the novelist and playwright, from Tywyn, Gwynedd, wrote about a part of north Wales through the eyes of a young boy and his mother in the aftermath of a nuclear explosion.
"It was impossible to put down and I read it in one sitting," said judge and last year's medal winner Sonia Edwards. "And I did not want it to end. Having said that, the writing stayed with me for a very long time. This is the effect this work had on my fellow adjudicators as well."
In the Senedd, the building has given way to the Eisteddfod's exhibition of art and craft.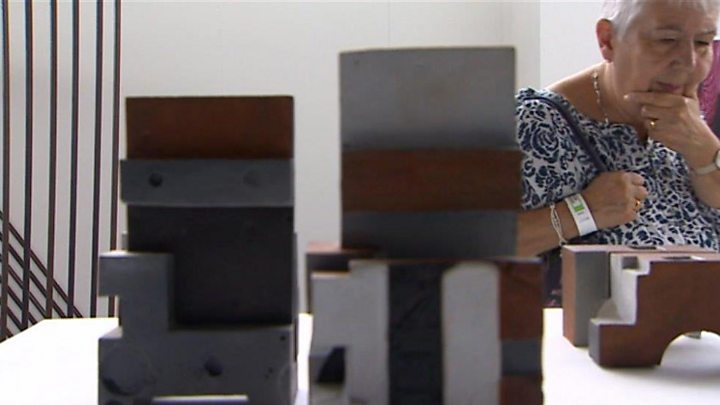 Presiding Officer Elin Jones said it was colourful and exciting, and she said a permanent space for art in the Senedd could be "challenging and inspiring" for the institution.
"I'm really pleased to see how popular it's been and how wonderful it looks," she said. "It's inspired me, and I think other Assembly members, to think that all of this will go when the Eisteddfod is over, what does it mean to us, whether we need to think about a more permanent presence for art in the Assembly.
"This place is alive with political discussion, but artists and art have a contribution to make - I know the Scottish Parliament commission and buy art, and maybe we need to think about that."
The Eisteddfod will also see the first of four nights of Maes B, which showcases the best in Welsh language rock and pop. Band Pres Llareggub - a brass band with a hip-hop twist - and Cadno are among the line-up for the opening evening.
Saturday night will reach its climax with Bangor-based indie favourites Yr Eira.
"Over the past few years, this slot has grown to be one of the most memorable - if not the most memorable - night in the Welsh calendar, so it's an honour to be headlining this year," said lead singer Lewys Wyn.
"Maes B is a very important stage for the Welsh scene, and is a chance for the audience to hear new and alternative bands on the same line-up as more famous names," said organiser Guto Brychan. "This can only be a healthy thing for the scene."