Geraint Thomas: Hero's homecoming for Tour de France winner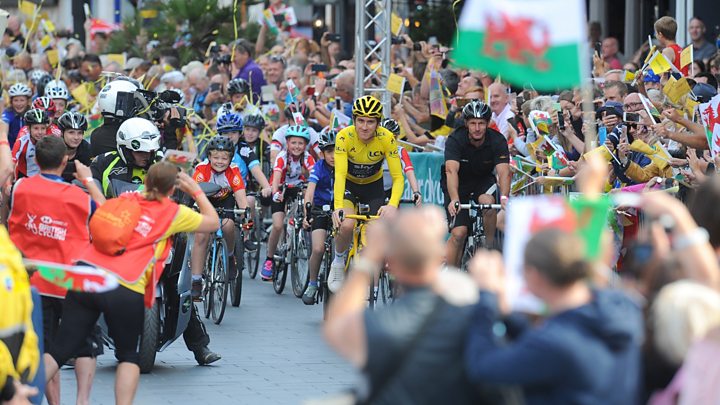 Thousands of people lined the streets of Cardiff as Wales officially welcomed home Tour de France winner Geraint Thomas.
The 32-year-old was congratulated by First Minister Carwyn Jones at the Senedd in front of more than 3,000 people in Cardiff Bay.
Thomas became just the third Briton and first Welshman to win the gruelling 21-stage race which culminated in Paris.
He has been "blown away" by support as 8,000 fans lined Cardiff's streets.
"I'm used to racing in front of thousands of people but to walk out to this, this is bonkers," Thomas said.
"Thanks for coming, I was a bit worried it was just going to be my wife and the dog," he joked as wife Sara and dog Blanche watched in the crowd.
Asked what was next for him, the double Olympic track champion replied: "A few more beers!
"I thought the race would be harder, I felt pretty good. The race was a dream and couldn't have gone better."
Mr Jones, who joined Thomas on the steps of the Senedd, described the triumph as "a stand-out moment in our sporting history".
"In politics you spend a lot of time selling Wales to the world and Geraint has done more in 21 days than I could've done in 21 years," said the first minister.
"From the whole of the country, thanks for what you've done."
Thomas then cycled through the packed streets of Cardiff, accompanied by a peloton of young riders, before he took a stage outside the castle to speak to the crowd.
But the Team Sky star, from the Birchgrove area of the Welsh capital, did have a word of advice for the young riders watching around the world.
"Just follow your dreams," the 2014 Commonwealth road race gold medallist told the crowd.
"Do what you love to do. Anything is possible with hard work. You're always going to have hard moments but if you really want to do something, go for it."
His parents were on the Champs-Elysees when Thomas crossed the finish line in July and his dad Howell said his son has the bragging rights over his rugby star friends.
"I don't think the rugby players can touch his performance," his dad said.
"They'll have to beat the All Blacks if they want to be as good as Geraint winning the Tour de France!"
His mum Hilary, meanwhile, said she had not seen much of her son since he won the Tour.
"Hywel saw him yesterday but I was in work," she said. "It has been like a whirlwind."
His dad added: "I think he's so tired now I don't think he knows where he is!"
Thomas follows in the footsteps of two other former Whitchurch High School pupils in being recognised in the city.
In 2012, then Welsh rugby captain Sam Warburton enjoyed a Grand Slam celebration at the Senedd, while Gareth Bale and Wales' football heroes brought Cardiff to a standstill with a Euro 2016 homecoming after reaching the semi-finals.
Thomas's achievement also saw him immortalised in the same way as the great Welsh rugby players in the 1970s, with performer Max Boyce penning a poem about him.
Cardiff council leader Huw Thomas said everyone in the city was "extremely proud" of the "landmark victory" while Welsh Cycling's Anne Adams-King said cyclists from across Wales enjoyed sharing "this once in a lifetime moment".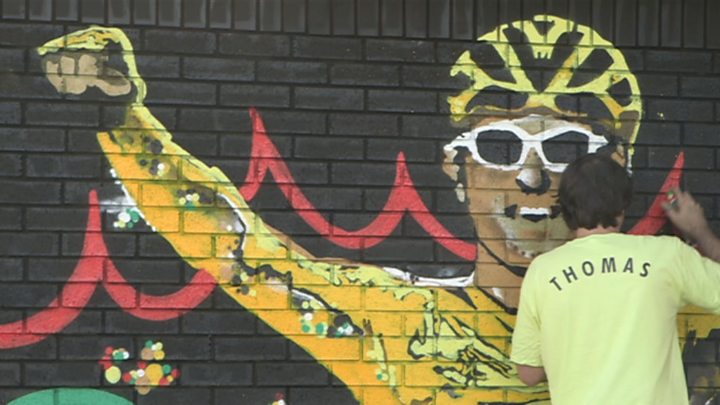 To celebrate his historic win, a 10ft-high graffiti mural depicting Thomas in his yellow jersey has been painted on a wall Maindy leisure centre overlooking the track used by the Maindy Flyers Cycling Club, where his love of the sport began, aged 10.