MajorPride: Llantwit Major to host its first pride event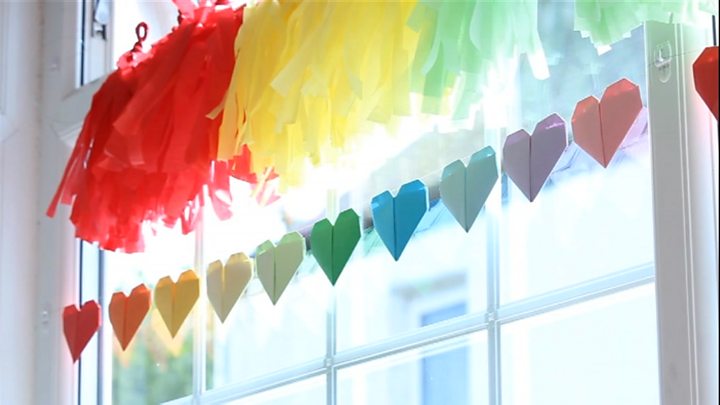 A small town is getting ready to host its first pride event.
MajorPride in Llantwit Major has been planned to "celebrate the diversity of the community".
Swansea and Cardiff's LGBT communities have well-established events but this is the first of its kind in the Vale of Glamorgan.
Its organiser said it would be different to city prides and feature attractions including a dog show and classic car display.
"We are one of a small handful [of Pride events] in Wales, so there's more to be done," said Rhodri Ellis Owen.
"I think in many ways we are a starting point, a blueprint for other communities and small towns across Wales."
Plans for the 1 September event also include performances from a choir for lesbian, bi, trans women and non-binary people, local bands, burlesque-style dancers and a disco hosted by a drag performer.
The local knitting group have been busy creating a crochet tree trunk cover to be unveiled at the event, the town will be decked in bunting and the White Hart pub is being renamed the Rainbow Hart for the occasion.
Mr Ellis Owen moved to the town with his partner 18 months ago and said they were met with a "vibrant and warm welcome".
"Living here gave me the idea of looking for a way to celebrate the diversity of this beautiful coastal town," he said.
The event needed to "chime with the personality of the town", he said, and added he hoped it would "bring all parts of the community together".
"I hope it's quite an organic event. there will be a lot of things popping up here, there and everywhere. We don't have a big stage area and we haven't got any big celebrities involved in it."
Lu Thomas, chairman of Pride Cymru, said: "Hopefully this can inspire small towns, villages across Wales to do something similar and we at PrideCymru are very happy to support the event in any way we can."