School uniform grants on offer for reception and Year 7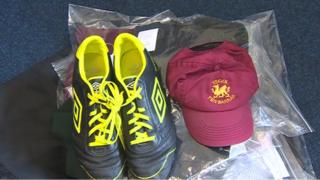 Parents looking for help in paying for new school uniforms are being urged to apply to a new £1.7m fund as children go back to school in four weeks' time.
Learners on free school meals are among those eligible for a £125 grant for new clothing and sports equipment.
It comes after the Welsh Government was criticised for closing its £700,000 school uniform grant in April.
Meanwhile, a school uniform recycling project is being widened to help more families Denbighshire from Wednesday.
The new Welsh Government fund, called Pupil Development Grant (PDG) Access, will also help pay for equipment for out of school trips and equipment needed for activities within the curriculum, such as design and technology.
Education Secretary Kirsty Williams said: "We want all our pupils to have access to the same opportunities - whether in or outside of school - and PDG Access is about making sure that happens."
The fund, available via local authorities in Wales, is aimed at children entering reception class in primary school, starting Year 7 in secondary school, and aged four or 11 in special schools, special education needs units or pupil referral units.
The previous scheme helped 5,500 learners last year with a grant of £105, after being set up in 2005 when £85 was on offer.
In Denbighshire, a pilot scheme which allows parents to buy second-hand school uniforms has proved so successful it has been widened.
The uniform recycling exchange in Denbigh, which has been running for three years, helped more than 200 customers at last year's sale.
This week it is also running at Ruthin and Rhyl with uniforms available from 11 schools in the area.
Regarding the new grant, Councillor Debbie Wilcox, education spokesperson for the Welsh Local Government Association, said it wanted to continue "discussions with Welsh Government to ensure that such vital funds are maintained".