National Eisteddfod: Archdruid apology for 'sexist' remark
By Huw Thomas
BBC Wales arts and media correspondent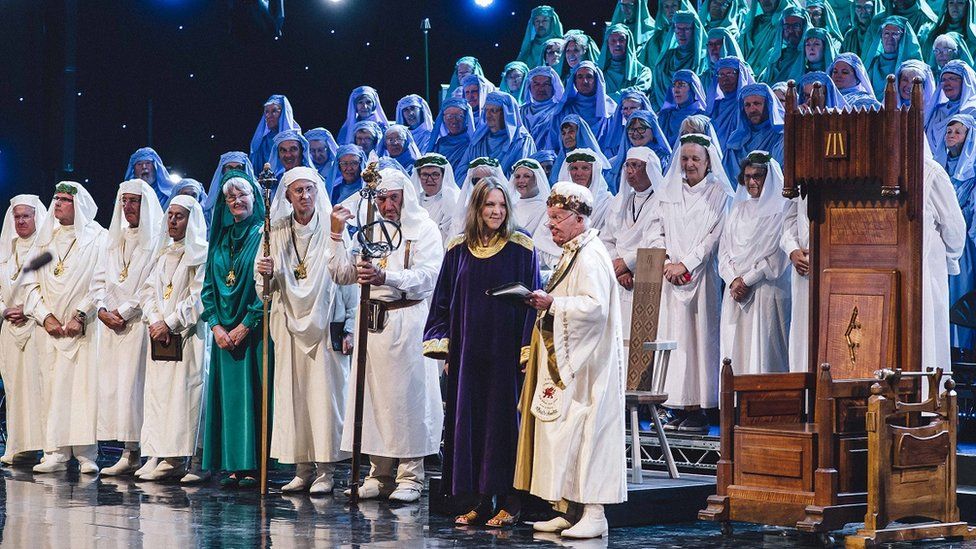 Wales' archdruid has apologised for comments he made during one of the highlights of the National Eisteddfod.
Geraint Llifon was crowning the winning poet, Catrin Dafydd, in Cardiff on Monday when he said she "couldn't have done anything without the men".
The Gorsedd of the Bards said the archdruid "wishes to apologise" and was sorry that his remarks had "clouded the celebrations".
Ms Dafydd said she accepted the apology and regarded the matter as closed.
When he made his remarks, the archdruid was standing alongside Ms Dafydd on stage at the Wales Millennium Centre, which is serving as the pavilion for this year's Eisteddfod events.
Geraint Llifon was listing those who Ms Dafydd wished to thank, but when he reached her appreciation for her partner's support he said: "She couldn't have done anything without the men, you see?"
There was an audible groan from the audience in the Wales Millennium Centre, to which he responded: "Ah, I'm telling the truth."
Ms Dafydd, who was standing alongside the archdruid for one of the biggest ceremonies at the week-long event, raised her eyebrows.
A statement issued on behalf of the archdruid by the Gorsedd said he wished to "apologise and emphasise that what was said during the ceremony wasn't a correct reflection of his, the Gorsedd or the Eisteddfod's opinion on equality.
"He is sorry that this has clouded the celebrations surrounding such a worthy winner of the crown, and neither he, the Gorsedd or the Eisteddfod will be making any further comment."
Ms Dafydd said she had spoken to the archdruid on the phone and said she did not feel the comments had affected her enjoyment of the ceremony or taken anything away from the honour.
She has accepted the archdruid's "genuine apology" but said it is important that the Welsh language community made clear what was acceptable and that the archdruid accepted that too.
Ms Dafydd, originally from Gwaelod y Garth, has also written five novels and composed her prize-winning collection of poems about Welshness in Grangetown in Cardiff.
The judges called her an "eloquent interpreter for our capital city's lively and mixed Welshness".
The archdruid is the elected leader of the Gorsedd, an association of writers, musicians and others who have made a contribution to the Welsh nation, its culture and language.
Geraint Llifon is currently presiding over his final year as archdruid.
In keeping with Gorsedd tradition he uses his bardic name in post, but is known as Geraint Lloyd Owen and is a critically-acclaimed Welsh language writer and poet.
The chair of the National Eisteddfod's executive committee, Ashok Ahir, has said that Geraint Llifon sometimes tried too hard to joke and that his successor should just get on with the job.
Related Internet Links
The BBC is not responsible for the content of external sites.