Wrexham music service replaced by co-operative after cuts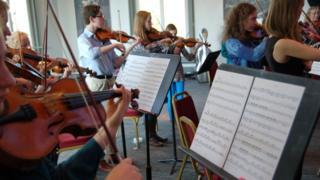 Wrexham school music services will be run by a county co-operative following cuts to spending on music provisions.
It will be launched in primary and secondary schools across Wrexham in September.
The council had previously been criticised following proposals to withdraw music service funding.
Ian Roberts, Wrexham council's head of education, said the new scheme will help music "go from strength to strength" in the county.
Lessons under the Wrexham Music Co-operative will start from £4.50 where schools are unable to meet the costs themselves.
In January, it was agreed by council executive board members that spending on the current service would be cut by £300,000, however a sum of £50,000 would still be kept to help poorer pupils access music provisions on a means-tested basis.
In a report to the council, Mr Roberts said: "To ensure that the children and young people of Wrexham continue to have access to music services, officers of the Education Department supported by other departments such as Human Resources have worked tirelessly to ensure that there is a service in place, albeit not funded by the Council."
He added: "As with any new service, it will take some time for the cooperative to become fully established and operational."
It has also been announced that the co-operative has applied for grants to support music activities in the county, including one from the Andrew Lloyd Webber foundation.