'Bring back' Llyn Peris boat shipped 150 miles to Cardiff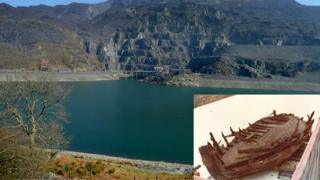 A Tudor-era boat shipped 150 miles to go on display in a museum should be returned to the village where it was found, volunteers have said.
The Llyn Peris was named after the lake where it was found in 1979 by workers building the Dinorwig Power Station.
Now the station's visitor centre in Llanberis, Gwynedd, is being revamped and the boat has been moved to Cardiff's National Museum of Wales.
Owners Electric Mountain said it would "protect it for future generations".
The 16th Century boat was found after Llyn Peris was drained during construction work on the hydro electric scheme and had been on show in the visitor centre since 2002.
Emlyn Baylis, chairman of Llanberis Development Group, said: "It's very important as part of the history of Llanberis."
Stephen Edwards, chairman of tourist group Hwb Eryri, said it was "important" the boat came back to the village as it could draw in tourists interested in the history of the area.
After being uncovered, it lay in the back garden of an archaeologist for more than seven years before carbon dating revealed it dated back to between 1547 and 1549.
A research project discovered the boat would probably have transported passengers, animals and goods.
Electric Mountain said the Llyn Peris would be "sited in an appropriate context and environment" to protect it for the future.