Gang jailed for fake immigration documents scam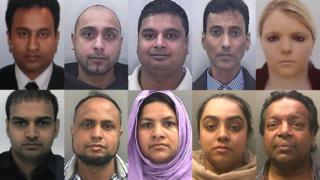 A gang that made fake documents for people trying to move to the UK illegally has been jailed.
Seven men and three woman from Cardiff, Newport and Merthyr Tydfil were jailed at Cardiff Crown Court on Friday.
They created fake wage slips showing earnings of more than £18,600 to sell to UK nationals so they could apply for spousal visas.
Nick Jupp from Immigration Enforcement called it an "organised criminal enterprise".
The 10 were caught after a two-year investigation by Immigration Enforcement's criminal and financial investigation team.
The court heard fake documents were sold by the fraudsters for up to £4,500.
Ringleader Denaught Sharma, 56, forged documents and opened a bank account sponsors would pay into to create the illusion of a monthly income large enough to be eligible to bring their spouses to the UK.
Their money would later be returned to them, minus a fee.
Under Home Office rules, £18,600 is the minimum amount sponsors need to earn each year in order to be able to apply for a spouse's visa.
'Systematic assault'
The scam was first uncovered in 2013 when Sharma was interviewed by Gwent Police as a potential witness in an unrelated case and incriminating text messages were found on his phone.
This led police to start looking into his finances before handing the case to Immigration Enforcement in 2016, when the gang was arrested.
Mohammed Uddin, Sarah Brindle, Abdul Muqith, Suleza Begum, Zakiyya Begum and Jagdeep Singh facilitated the illegal entry to the UK of their wives and husbands by using the fake employment records.
Sandeep Kumar, who is married to Brindle, tried to get leave to remain in the UK by submitting fake job documents for his wife. He was sentenced in his absence as he has left the UK.
Mr Jupp, assistant director of the criminal and financial investigation team, said: "By bringing these criminals to justice we have stopped a concerted and systematic assault on the UK's immigration system."
Denaught Sharma (Guyanan), 56, of Rogerstone, Newport - pleaded guilty to six counts of facilitation - jailed for seven years and seven months
Pirun Sheikh, 42, of Llandaff, Cardiff - pleaded guilty to two counts of facilitation - jailed for four years and nine months
Zakiyya Begum, 26, of Newport, - pleaded guilty to one count of facilitation - jailed for 19 months
Mohammed Zaman Uddin, 41, of Cardiff - pleaded guilty to one count of facilitation - jailed for 15 months
Suleza Begum, 51, of Roath, Cardiff - pleaded guilty to one count of facilitation - jailed for 21 months
Abdul Muqith, 45, of Llandaff, Cardiff - pleaded guilty to one count of facilitation - jailed for 22 months
Jagdeep Landa Singh, 31, of Riverside, Cardiff - pleaded guilty to one count of facilitation - jailed for 21 months
Sarah Brindle, 25, of Newport - convicted of one count of facilitation - jailed for two years
Abdul Shifar, 43, of Merthyr Tydfil - convicted of one count of facilitation - jailed for four years
Sandeep Kumar, 31, of Newport - convicted of seeking to obtain leave to remain by deception - jailed for two years