Farmers using 'medieval' security measures as rural crime rises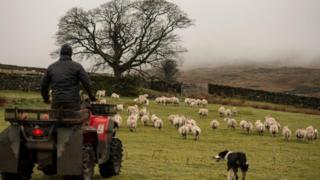 The cost of claims for rural crime in Wales rose by more than 40% last year to £1.9m, according to the UK's largest agricultural insurer.
NFU Mutual said some farmers were now resorting to "medieval" security measures to protect their property.
Trends include more thefts of all-terrain vehicles, quad bikes, tools, small tractors and livestock, it said.
The insurer said the cost of rural crime went up most sharply in Wales in 2017, compared with the rest of the UK.
In Scotland and the north east of England the value of claims fell by 3.8% and 6.5% respectively, although it rose by 32% in the West Midlands.
Andrew Davies, who farms 250 acres in Carmarthenshire, said two of his quad bikes were taken by thieves in rapid succession.
"We enjoyed many years without thefts but now we're being targeted," he said.
"We believe that the vehicles are being stolen to order, as nothing else is taken. They just disappear into thin air, which makes you think they are being loaded onto other vehicles and taken somewhere else.
"It's very organised theft and big business."
He called on the police to gather as much intelligence as possible to identify the ringleaders.
Dyfed-Powys Police launched its first unit aimed at specifically tackling rural crime earlier this year after feedback from farmers identified a possible "lack of confidence" in police.
It currently consists of two officers covering Ceredigion, but the force hopes to bolster the unit to cover a wider area in the future.
In contrast, North Wales Police has had a rural crime team in place since September 2013.
Tim Price, a spokesman for NFU Mutual, which provides cover to about 75% of UK farms, said thieves were increasingly "brazen and determined".
"Farmers and country people are turning to history books to re-purpose security measures from medieval times," he said.
These include cutting deep ditches, and erecting earth banks and stockade fences, to protect valuable machinery and livestock.
More technology is also being used to deter crime, including CCTV cameras, tracking devices and the SmartWater tracing system.
A Home Office spokesman said the election of Police and Crime Commissioners had given communities, including those in rural areas, "a strong voice in determining how police resources are allocated to tackle the crimes that matter most to them".
He said: "We know the nature of crime is changing, which is why the Policing Minister has spoken to every police force in the country to understand the demands they are facing and why the Home Secretary in May committed to prioritising police funding in next year's Spending Review."
The total value of the claims across the UK stood at £44.5m last year, up from £39m in 2016.