Superfast limbo for village as connection falls at last hurdle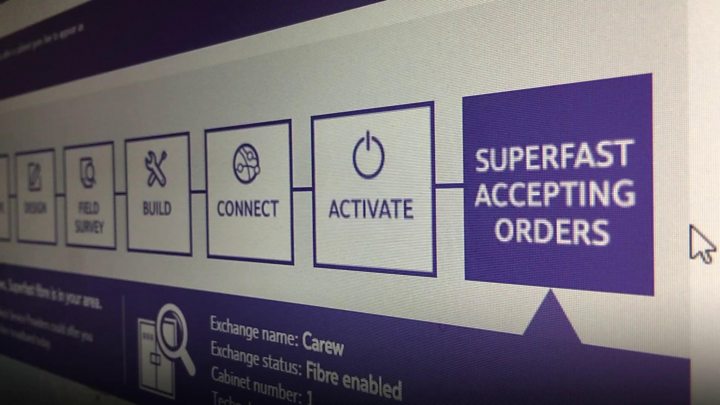 Residents of a small village say they have been left in limbo, with all the technology needed for superfast broadband except the final connection.
West Williamston, in Pembrokeshire, has no mobile coverage and a current broadband speed of 3 Mbps - speeds of 24 Mbps-plus are considered superfast.
One resident said: "It's frustrating because 80% of the work has been done."
The Welsh Government said it was awarding contracts to complete rollout of superfast as quickly as possible.
Superfast broadband has now reached 733,000 premises across Wales, but the final phase of the roll-out to about 100,000 homes has been set back.
Alistair Edwards, who lives in one of the 20 houses in West Williamston, said he signed up for the superfast service through BT after being told his postcode was enabled.
"According to their records we have superfast, but we don't," he said.
"It's frustrating because 80% of the work has been done. There is a fibre cable just outside the village hanging from a telegraph pole. It just hasn't been connected to the properties."
BT said it was sending an engineer out to investigate Mr Edwards case and will allow him to end the contract if they cannot provide the speed they promised.
Meanwhile, neighbour Dr David Wilson said his seven-year-old son Milo cannot use his school's online learning account from home.
"The connection is so bad we can't upload his homework. I have to drive to work to do it," Dr Wilson said.
In January 2018 the Welsh Government said it expected to release details of an £80m successor scheme to superfast in the spring. That date has now slipped back to the autumn.
Openreach - the firm that runs much of the UK's telecoms infrastructure - said: "There is the option of applying for a Community Fibre Partnership for those communities that are out of scope.
"Openreach funds half the scheme while the community funds the other half. They can then apply for grants from the Welsh Government to help them."
But Mr Edwards said communities were being left "on hold" because of delays with the final phase of the rollout.
"We're not being told whether we will be covered or not," he said.
"We don't want to pay out as a community only to find out later we would have qualified for a free connection."
A Welsh Government spokesman said they were working to award contracts as quickly as possible.
"It is absolutely essential and right that time is taken on this so the full benefits from the successor scheme can be achieved," he said.