Bees rescued from Port of Newport crane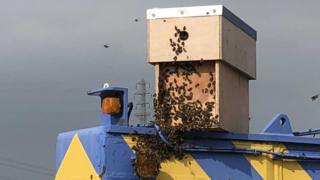 A port manager removed a swarm of bees from a crane by drawing on his hobby as a part-time beekeeper.
Callum Couper wasted no time donning his protective clothing and helping to move the insects along.
The Port of Newport manager ensured they were transported to Queen Alexandra Lock in Cardiff, where he keeps five hives.
The 59-year-old said: "This isn't my first rescue, and it probably won't be my last."
The discovery at the Associated British Port base was made by workers on Tuesday.
But thanks to Mr Couper's experience, staff in Newport did not have to look far for help.
"Our South Wales seaports aren't just for ships - multimodal transport is also supported, whether you have wings or wheels," Mr Couper joked.
Bees and other pollinators are vital to most of the world's food crops.
However, they have been in decline in recent decades due to the destruction of wild habitats, disease and pesticide use.