Has Merthyr Tydfil shaken off its poor image?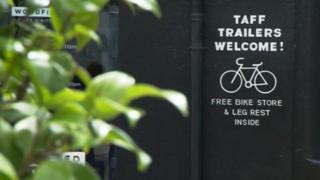 Has Merthyr Tydfil managed to shake off its negative image?
Thousands of tourists are using its mountain biking centre, there are new restaurants and bars, while economic statistics point to a more healthy employment picture.
We asked local workers and business owners how the area has changed over the years.
"Merthyr - it's great if I'm honest with you"
Garin Clee, 18, has been a technical apprentice for the last eight months and helps customers with problems with their phones. He used to be a bathroom tiler but prefers his new job and is ambitious.
"Merthyr was quite a deprived area not too long ago. It's upped its employment in the area and digital learning," he said.
The town is also offering leisure opportunities, from the cinema to bowls, as well as pubs and clubs in its town centre.
"The opportunities and things we've got now in Merthyr - it's great if I'm honest with you. People used to go out in Pontypridd all the time, but no-one asks the question any more, it's always Merthyr."
"A very caring community with a very strong heart"
Louise Hodges, 56, an operations manager, has worked at the EE contact centre for nearly 18 years.
She said its roots to the community are very strong among the workforce. There is a football academy and after-school club for autistic children run by volunteers.
Business boost changing tide on Merthyr's 'no jobs image'
Recently, staff had a whip-round to buy 11 electric fans for local hospital wards during the heatwave, because locked windows could not be opened.
"It's really hurtful when you see things on the news about Merthyr - everyone is unemployed, on drugs or sleeping rough," she said, adding every town has problem areas, but it would be refreshing to see good news.
"There are people in unfortunate circumstances but we're very proud of where we come from, it's a thriving community, a very caring community with a very strong heart."
Bucking the trend
Merthyr appears to be hitting above its weight.
It was always the go-to place for people looking for gloomy jobs news.
Unemployment was 5.7% in March 2018 - above average but lower than others in the heads of the valleys.
It also has an employment rate of 74% - now higher than the Welsh average (72.7%).
It has also seen a steady rise in people working for private companies over the last 12 years, with the picture more volatile elsewhere.
'We won't go to Italy, we'll go to Wales'
The main visitor attractions - topped by Cyfarthfa Castle and Park - had more than 6.8m day visits last year but there has been a £2m growth in the total impact of tourism since 2016 and an encouraging rise in overnight stays.
BikePark Wales was set up five years ago in Gethin Woods on the southern edge of Merthyr.
It was built with some European funding, but there was no cash to run the mountain centre. Now 75,000 people visit there a year from right across the UK, Europe and even the USA.
They began with 12 workers but now employ 55 people all year round, 80% of whom are from Merthyr itself.
Many stay locally and it doesn't take long to realise that these kind of visitors can be big spenders and make a real difference to a towns local economy.
Martin Astley, director, said: "We've exceeded our expectations. When we started, a few people questioned whether it was the right thing to do. We've found some amazing people. Occasionally we employ people who will move into the area - but we employ everyone from a care worker to bike shop mechanic, accountant to drivers.
"We're just starting a three-year growth plan, to add accommodation, expanding into a slightly broader market, creating some easier trails and are expecting another 16 full-time roles.
"The perception of Merthyr is beginning to change and people are often surprised. We hear feedback about how good their accommodation is or how good the pub was."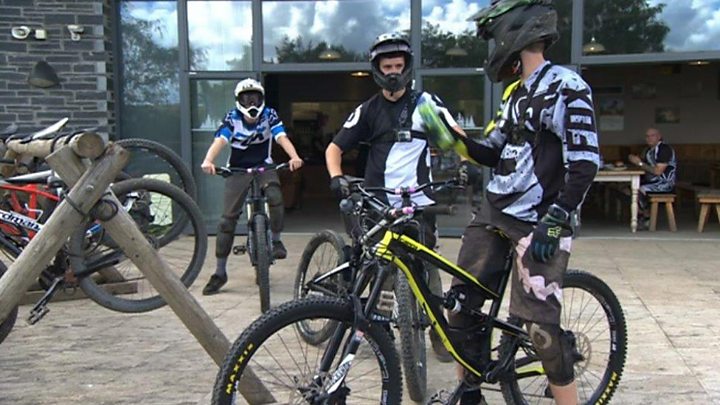 Anna Marie Jager, a Dutch tourist said: "I'm here because I like to mountain bike and a few days ago we did some blue loops and we're staying at a camp-site.
"We did some research about where to mountain bike in Wales because the weather forecast was really good and we thought, we won't go to Italy, we'll go to Wales."
Julia Matthews, from Lincolnshire, is stopping in Merthyr for a few days before travelling to north Wales.
She said: "I used to come to Wales when my kids were little to Tenby and Saundersfoot. I used to think Merthyr was a mining town, but it's beautiful, the landscape is stunning, great for walkers and mountain-bikers."
'Been through hard times'
Local businessman Phil Corke said: "It's been very difficult going back - the populace has been used and abused over the years, going back to the ironmasters. One thing we've got is space but there's also an awful lot of money being spent in the town, all sorts of things which have tended to lift the town.
"It's very positive."
"We've got a lot of faith in the town, there's a lot of confidence and we seem to be outpacing the other heads of the Valleys towns.
"We've been through the very hard times, but people have stuck together. Now there are people coming from all over the country and staying here."
Within six months of setting up last year, hairdresser Paula Daniel had to move to larger premises and said she has noticed a big change in the town.
"I don't think any time before the opportunity was there," she said.
"But the need is there, because of the employment situation, people have more disposable income, more people are spending money on themselves in the beauty industry."